Chiyoda has been engineering and constructing refinery for over the years, with focus of continuous innovation. We can offer the total package for your refinery, including Feasibility Study, Front End Engineering Design, Detail Engineering, Procurement, Construction, Start-up Assistance, and Maintenance/Inspection service.
Our offer also includes process technologies to meet your environment requirements and to improve refinery profitability.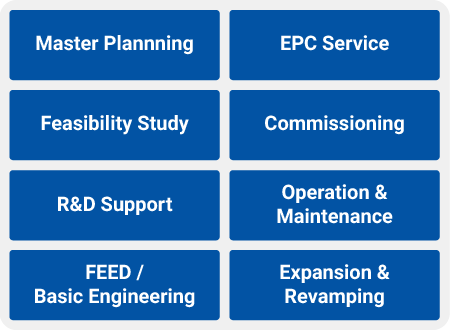 Chiyoda provides a wide range of services from planning phase to EPC, O&M, expansion, revamping etc., based on our extensive experience, knowledge of plant lifecycle engineering and to high health, safety and environmental standards.
A typical flow scheme of a new oil refinery is shown below. We deal with various kinds of facilities , some of which is our own technology.
Key business and technology
A. Environmental Regulation
Gasoline sulfur free process
 -Reduces the sulfur content in FCC gasoline
Ultra Low desulfurization process for gas oil
 -Reduces the sulfur content in gas oil to below the limit of the environmental standards.
B. Residue upgrading process
Thermal cracking process for heavy oil
 -Coker process
 -EUREKA® process
Residuum oil supercritical extraction (ROSETM)
 -Separation of asphaltenes from heavy oil using supercritical solvents
 -Our experience of Residue-HDS cover over 60% of the domestic market and 30% of the world market
C. Chemical Oriented Refinery
-BTX process
-Para-xylene comprex
-Petrochemical FCC
D.Refinery energy-saving consultation