Asset Risk Management Implementation and Support Services
Chiyoda contributes on implementation of asset risk management such as API RBI, RCM, Safety Risk Assessment, and support for improvement of the PDCA during plant lifecycle.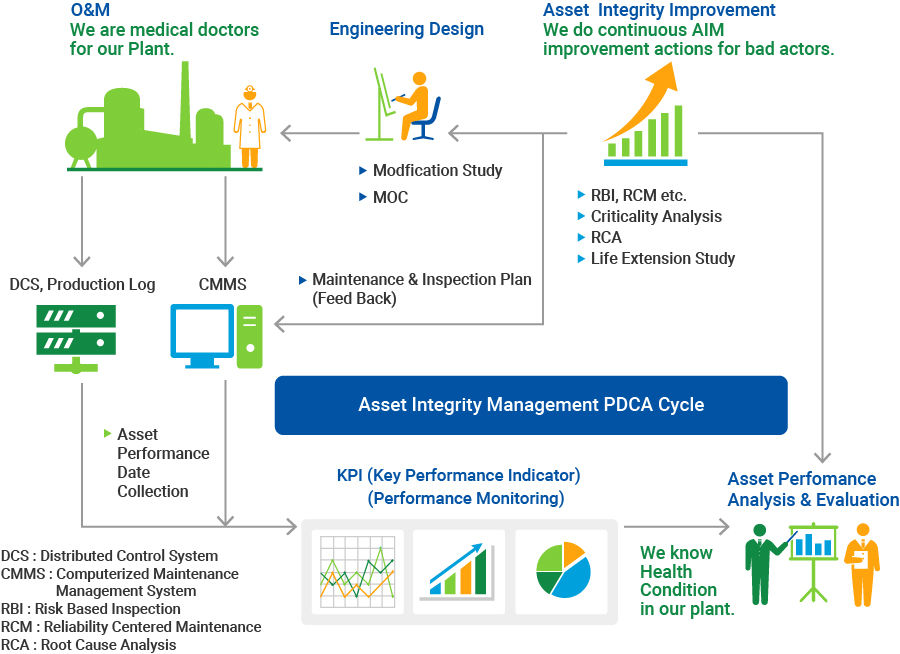 Asset Risk Management is best practice in order to ensure the sustainable safety and production operation during plant lifecycle. Chiyoda contributes to implement below asset risk management, and support client for plant lifecycle. Chiyoda can recommend reasonable and practical risk mitigation measures based on our long engineering experiences for unacceptable risk.
Risk Based Maintenance Implementation and Support Services (API RBI*1, RCM*2)
Safety Risk Assessment (Review on Preventive & Domino Measures for Hazardous, Recommendation of Additional Mitigation Measures)
1: Risk Based Inspection
2

:

Reliability Centered Maintenance

Furthermore, the risk management shall be executed absolutely, and the risk shall be monitored and managed continuously. Chiyoda has many experiences on implementation and technical support for CMMS (Computerized Maintenance Management System) and asset management KPI (Key Performance Indicator) which can ensure the management. Chiyoda also contributes to improve the PDCA on client's asset management for plant lifecycle.