Floating LNG Power Vessel
As one of Chiyoda's LNG value chain solution, Chiyoda is developing a Floating LNG Power Vessel which has floating power generation unit using LNG as a fuel. The Floating LNG Power Vessel has 4 functions in one unit;
LNG Loading Facility
LNG Storage
Regasification
Gas fueled Power Generation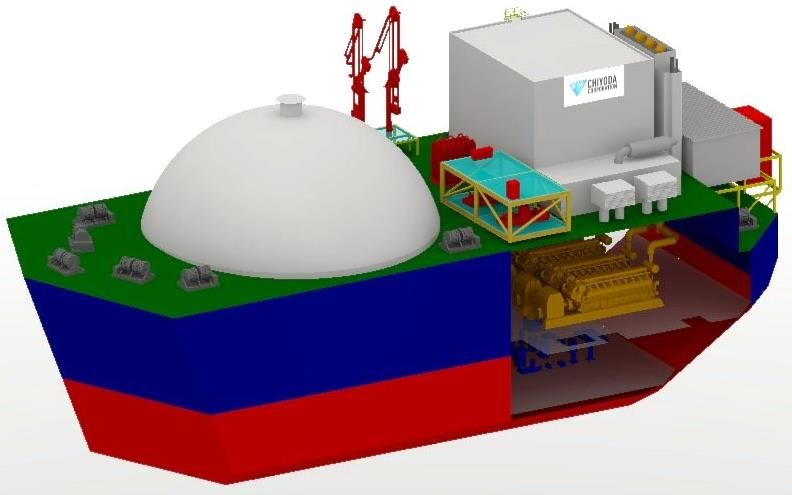 Chiyoda is offering Floating LNG Power Vessel for small scale to mid-scale power generation system with "4 functions".
Power Generation System
・Small Scale: Gas Engine (Dual Fuel Diesel Engine) Generator system
・Mid-Scale: Gas Turbine Combined Cycle
The key design considerations are as follows.
1. Reliable Design and Operation
Chiyoda has extensive experiences in LNG industries and succeeded plenty of LNG projects with reliable design and operation. These Chiyoda's LNG project experiences and capabilities enable to achieve reliable design and operation, especially in LNG handling and utilizing system of Floating LNG Power Vessel.
In addition, since the Vessel is a floating unit, all equipment and systems are consisted from proven technologies in marine and offshore industries. This will also contribute achieving "Reliable" Floating LNG Power Vessel.
Safety is one of important aspects in floaters as well as LNG industries. Through active development of FLNG technology in recent years, Chiyoda has accumulated the technologies in offshore safety design. These technologies are incorporated into Floating LNG Power Vessel.
The main consideration is to segregate hydrocarbon service and non-hydrocarbon service by areas. Chiyoda's Floating LNG Power Vessel segregates these system by area and supporting utility system is also segregated between for hydrocarbon service and for non-hydrocarbon services.
Chiyoda's Floating LNG Power Vessel concept design received Approval in Principle from ABS (American Bureau of Shipping) in May, 2016.


3. Low Cost & Short Delivery
One of the key feature of Chiyoda's Floating LNG Power Vessel is to apply "conversion" concept. The Floating LNG Power Vessel is converted from old LNG Carrier, which is rapidly increasing the number of free vessels in the market. Applying the conversion concept enables to achieve "Low Cost" and "Short Delivery" of Floating LNG Power Vessel.
The main features of conversion concept are:
Any Cargo Containment System (Moss, Membrane, and SPB) can be adopted to Chiyoda's conversion concept to Floating LNG Power Vessel
One LNG Carrier is to be converted into several Floating LNG Power Vessels (depending on the number of tanks of donor LNG Carrier and/or output power capacity of Floating LNG Power Vessel)
LNG tank and hull in way of LNG tank of donor LNG Carrier will be used to Floating LNG Power Vessel as LNG storage and surround hull structure
Additions and modifications

Dual fuel diesel engine or Gas & Steam turbine generator combined cycle will be installed as electrical generation system in
New deck house and machinery spaces at Aft / Forward structure for newly installed equipment space and stability
Existing hull, machinery and materials will be refurbished accordingly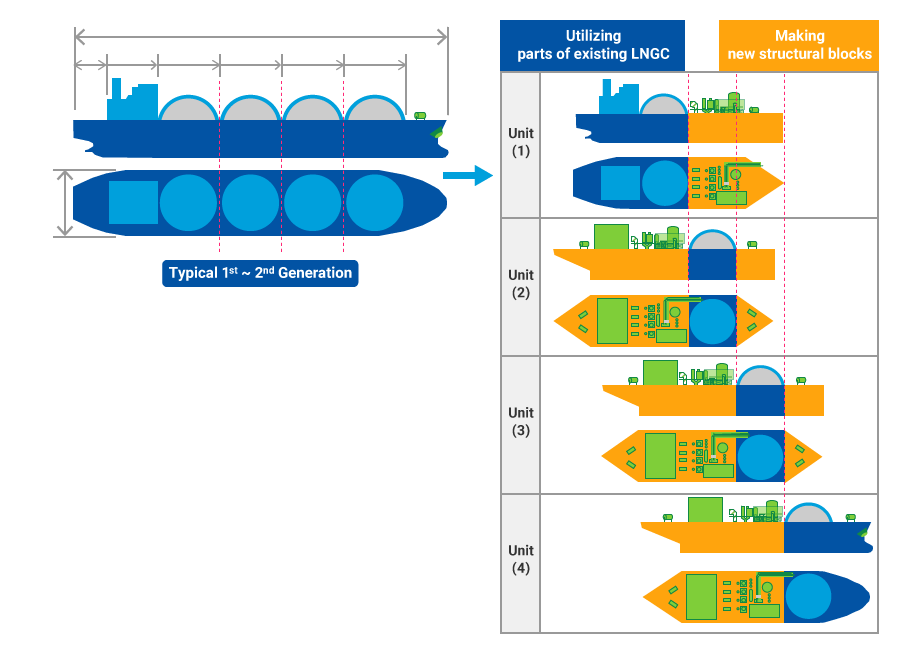 The Floating LNG Power Vessel is suitable for the following areas or purposes.
Areas where the large electrical demand exists and are environmentally conscious, especially green-house effect.
Areas where are remote from main land/cities and the electrical demand is small, i.e. small islands.
Areas where have poor electric power supply facilities and need early response.
Areas where are close to large LNG supply bases.