Acid Gas Removal (AGR)
This process removes H2S, CO2 and organic sulfurs (such as mercaptan and COS) in the raw feed gas so as to make it comply with LNG liquefaction process or sales gas production standards. To be specific, amine counter-currently contacts the source gas inside the absorber column, and the hazardous acid gas substances are absorbed by amine for treatment. Since this is a wet process, the dehydration process by molecular sieve is necessary at a latter stage. Since some processes cannot remove organic sulfurs, additional molecular sieve bed is sometimes equipped with that function.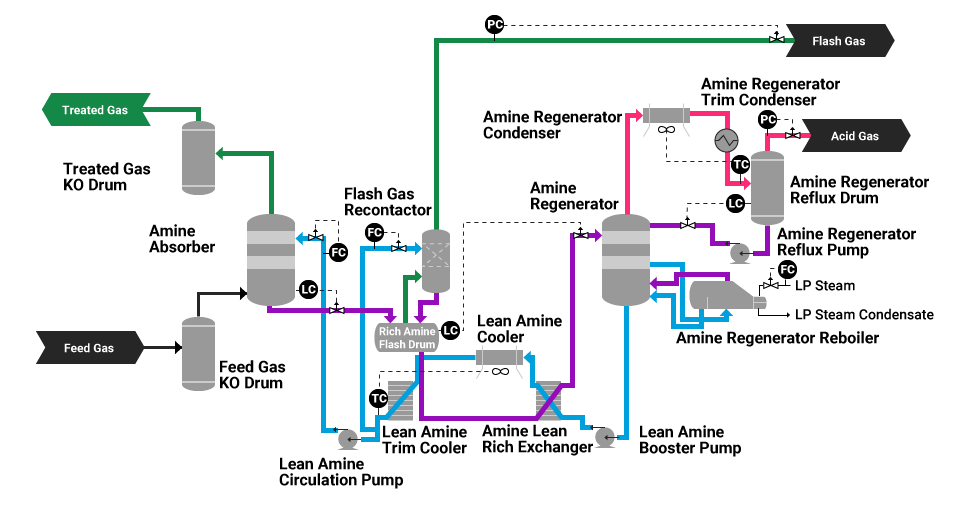 Being an authorized licensor for the Sulfinol process and the ADIP process of Shell Global Solutions International, Chiyoda has designed and installed a large number of Shell processes.
For a new Shell AGR process, Sulfinol-X can remove acid gas and organic sulfurs, which is required for AGR, in a single absorption column, thereby eliminating the need for organic sulphur removal at a latter stage. Coupling the use of chemical and physical absorbing agents with the redesign of composition and mixture arrangement, this new process solved the problem of frequent co-absorption of hydrocarbons, which caused much trouble for Sulfinol-D. Sulfinol-X is a very promising process.
In addition to the Shell process, Chiyoda is also rich in design and construction experience in other AGR processes such as BASF, UOP and Prosernat and is therefore capable of coping with any type of AGR process.
In Feed gas for LNG, main compositions are Methane (CH4), Ethane (C2H6) and Propane (C 3H8) with 0 ~ 15% H2S and 0~ 10% CO2. In some cases, organic sulfur (Mercaptanes etc.) also contained. Chiyoda can handle several type of Feed gas by selecting suitable Amine.
Key projects