Within Chiyoda, we believe that safety is about protecting our people, the environment, our assets and reputation, for this and future generations.
We understand that humans are fallible and the best at making mistakes. However, unsafe situations are predictable, manageable and preventable. An individual behavior is influenced by our organizational values and processes.
People can achieve high levels of performance through encouragement and reinforcement received from leaders, peers and subordinates. Unsafe occurrences can be avoided by understanding why we make mistakes and applying lessons learned from past events.
The safeguards we implement to protect our people through robust safety leadership, worker engagement and our 'One Team" approach directly affects performance. More than simply ensuring compliance with legislation, meeting client requirements or fulfilling international standards and industry good practice, our policies reflect who we are and address our moral obligations to our people and the environment.
The road to safety excellence is long and our journey continues. We have thus far developed our safety culture: "C-Safe", a combination of proven pragmatic management systems and behavior improvement techniques.
C-Safe has evolved as part of our continuous improvement process. Through a "learner mindset', we adopt the principle that continuous improvement (安全改善 - Anzen Kaizen) of safety towards interdependence is our core value and will enable us to see improvements in other values, such as productivity and quality.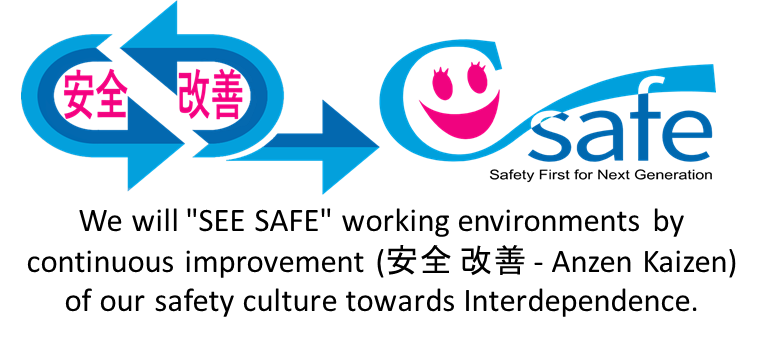 Our C-Safe Program underpins:
・Clear leadership expectations (comply, respect and intervene)
・Clear communication with our personnel on a regular basis – demonstrating that safety is our core value
・Beliefs (all incidents are preventable)
・Measuring leading indicators and investigating all incidents, including near misses, to prevent recurrences
・Promoting a "just" reporting culture
・Continuous training of all personnel to provide a working environment where we see each other work safely, resulting in our families seeing us returning home safely
・Supporting the global "Building Responsibly" initiatives that serve as the industry standard on worker welfare so that competitiveness is not at the expense of worker safety