Management System Certification
Chiyoda possesses four (4) Management System certification as follows.
OHSAS 18001:2007 (Occupational Health and Safety Management System)
ISO 9001:2015 (Quality Management System)
ISO 14001:2015 (Environmental Management System)
ISO/IEC 27001:2013 (Information Security Management System)
Integrated Management System (OHS / Quality / Environment / IS)
At Chiyoda Corporation, the SQEI Management Committee, which is part of the Management Committee, is responsible for decisions on environmental activities. This committee establishes Corporate SQE Policy and periodically reviews the Company's activities. In addition, the Company has established committees under the direct control of top management to promote occupational safety, health and environmental (HSE) activities. Lower-level committees at each operating base promote independent initiatives in the categories of office activities, R&D activities and EPC* activities.
Engineering, procurement and construction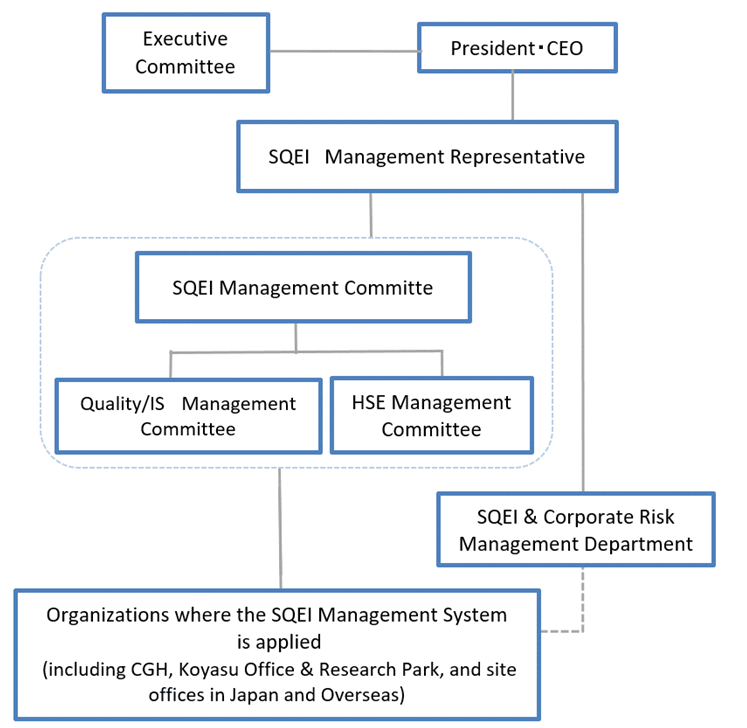 Chiyoda Corporation conducts annual internal audits for environmental activities to ensure they are being carried out properly. From the fiscal year ended March 2014, we have been carried out simultaneous, combined SQEI audits of occupational health and safety (S), quality (Q) and environmental aspects (E) and information security (IS). We carried out the audits in writing for self-check and the internal audits by interview. All departments and locations undergo the audits in writing every year and are audited by interview every three years. The audits also include the response taken to the issues raised by a third-party inspection organization.
Chiyoda Corporation stirves for operating our integrated SQEI management system even more efficient as we integrated all of the common elements of SQEI management system and are reducing the operating work load.