Chiyoda Corporation was founded in 1948 during the time when Japan was starting to move powerfully toward postwar recovery. With 'serving society through technology' as its founding motto, the company has kept moving forward in accordance with the Corporate Philosophy of 'Energy and Environment in Harmony' and in unswerving awareness of the requirements of the global community.
In the Paris Agreement adopted by the United Nations in 2015, a consensus was reached by the international community that it aims for a carbon-free society as an approach to climate change. With The Sustainable Development Goals (SDGs) as global common goals, business entities are strongly urged to make efforts to solve global issues through their businesses.
In addition to the initiatives that form the foundation of our CSR, Chiyoda has identified key sustainability issues aiming to simultaneously resolve global issues and achieve economic growth.
In the future, we will integrate the identified issues into our business plan and further strengthen our efforts to achieve the SDGs through our business activities.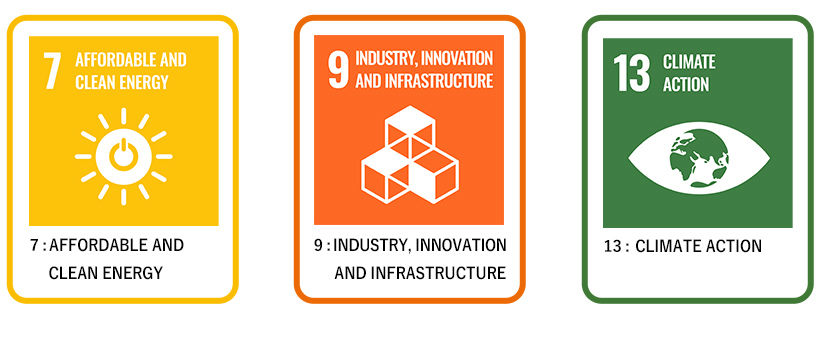 Steps for Identifying Priority Issues
Step1. Identification of Business Sectors and Issues
In accordance with SDGs Compass guidelines, we have implemented the following SDGs dissemination activities for a certain period.
Internal Education and Dissemination
Employee Questionnaire
Workshop
We have identified SDGs that we believe are achievable through our business using the HSE / CSR target setting sheet.
Step2. Definition of Materiality
As a next step, in light of the medium-term management plan, we have identified issues of high importance amongst the issues identified in Step 1 by (1) sorting the distribution of the 17 goals and (2) analyzing them from the perspectives of both social and business impact.
Matrix of SDGs and Mid-Term Management Plan *Please scroll.
SDGs
1
NO
POVERTY
2
ZERO
HUNGER
3
HEALTH
AND
WELL-
BEING
4
QUALITY
EDUCATION
5
GENDER
EQUALITY
6
CLEAN
WATER
7
CLEAN
ENERGY
8
ECONOMIC
GROWTH
9
INDUSTRY,
INNOVATION
AND
INFRASTRUCTURE
10
REDUCED
INEQUALITIES
11
SUSTAINABLE
CITIES
AND
COMMUNITIES
12
RESPONSIBLE
CONSUMPTION
AND
PRODUCTION
13
CLIMATE
ACTION
14
LIFE
BELOW
WATER
15
LIFE
ON
LAND
16
PEACE,
JUSTICE
AND
INSTITUTIONS
17
PARTNERSHIPS
FOR
THE
GOALS
Mid-
Term
Manage
ment
Plan
Environment
Solutions
Energy
Solutions
Engineering and


Business Model Innovation

CSR
Core
Value
Transfer of Skills and
Development of Human
Resources Through
Overseas Project Execution
Human Rights Initiatives
(Including Ban on Child
Labor/Forced Labor and
Promotion of Diversity)
Commitment to
Compliance
and Governance
Social
Contribution
Analysis of Social and Business Impact
Step3. Approval of Materiality
The key sustainability issues identified in Step 2 are determined once they are deliberated by the Group CSR Meeting and approved by CSO.
Chiyoda's Key Sustainability Materiality
 
Goals
Goals
Chiyoda aims to ensure stable energy supply by improving infrastructure and providing all people in the world with access to energy through plant construction. Chiyoda responds to various energy demands providing solutions such as environment-friendly LNG plants, renewable energy supply, and hydrogen supply chains. Chiyoda realizes a sustainable society by enhancing corporate value with harmony between energy and the environment.
Goals
Chiyoda contributes to the establishment of the foundation for technical innovation by integrating AI & innovative digital technologies, increasing the asset value of our customers, and developing global human resources through technology transfer, as well as to the establishment of economic and industrial infrastructure of the countries where we construct plants. Chiyoda also aims to resolve social issues by technologies in pharmaceutical / life-science fields.
Goals
Ever since its foundation, achieving a balance between industrial development and the global environment has been one of the important missions of Chiyoda. Chiyoda aims to realize a carbon recycling society and respond to climate change through engineering, ensuring the sustainability of the global environment and human society. Chiyoda remains a leading company, taking on challenges of developing new technologies to solve global issues.
Solutions

Solutions

Provision of safe and reliable plants
Implementation of high-quality engineering services
Provision of added value through integration with cutting-edge technologies
Technical proposals responding to various energy requirements

Solutions

Global human resources development
Technology transfer and job creation in the countries where we execute projects
Provision of added value through integration with cutting-edge technologies
Application of innovative digital technology
Expansion of business areas through partnerships

Solutions

Efforts for environmental conservation through project execution
Technical proposals for a carbon recycling society
Development and provision of environmental protection technologies
Effective energy utilization through efficiency improvement
Expansion of business areas through partnerships