HiCOT Reformer Furnace
Chiyoda's High Temperature Combustion Technology (HiCOT) is an innovative technology which has following characteristics:
Fuel saving
Reduction of green house effect gas (CO2)
Reduction of air pollutant (NOx)
Downsizing of equipment (reduction of heat recovery section of furnace)
Flame condition in the HiCOT furnace

HiCOT combustion mode (invisible flame)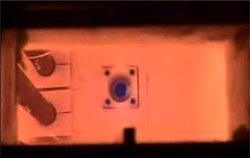 An overall view of HiCOT
demonstration plant
H
2
production capacity :
1,200 Nm
3
/h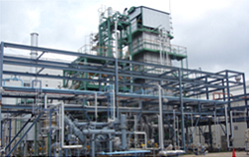 The combustion technology utilizes new combustion region at high temperature air of above 800ºC under lean oxygen content where burner flame spreads entirely in the combustion chamber and the flame becomes invisible.
The high temperature air combustion of HiCOT reformer furnace is achieved by regenerative burners recovering waste heat of flue gas from the radiant section. Such combustion conditions provide uniform temperature distribution in the combustion chamber.