Engineering
Engineering & Design works are performed through coordination and teamwork among the specialized discipline engineers and project engineers who manage overall EPC activities. Based on the Basic Design Package (FEED) and starting from Process Design, facilities designs such as various Equipment/ Electrical/ Control & Systems and space-integration designs such as Piping/ Civil/ Building are performed in parallel manner. Close communication among the engineers is very important. At the early stage of engineering & design phase, Chiyoda especially cares for environmental and safety requirements and Plant operability/ maintainability considerations to be firmly incorporated. It is also required to consider and incorporate natural conditions of the construction site, such as geotechnical/ geophysical/ geological conditions, climate conditions, etc. Design methodology, know-how and experiences of Chiyoda are integrated in "Chiyoda Knowledge DataBase", which serves for the engineers to effectively share information/ skills and also succeed to technological legacy. As part of Reliability Program, Chiyoda performs Intensive Design Review to make sure most effective/ reliable engineering performance achieved.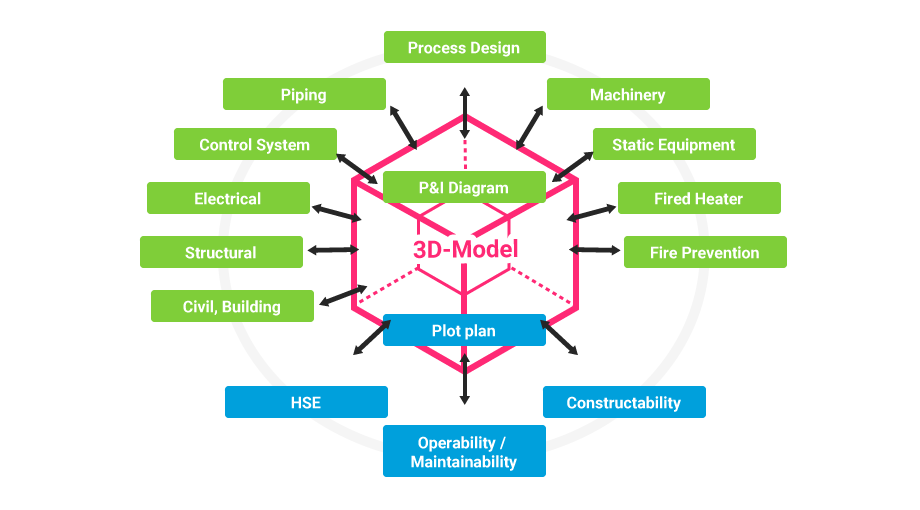 P&ID, virtual 3D Plant Model and Plot Plan are prepared by application of "i-Plant 21", Chiyoda's Integrated Plant Design System, and are finalized through Cold Eye Reviews conducted at designated steps. This system enables that Global Engineering Centers work in linked and integrated manner.
P&ID (Piping & Instrument Diagram):
a schematical diagram showing piping, equipment and instrumentation connections within process units in petrochemical or natural gas processing plants. During the design stage, the diagram also provides the basis for the development of system control schemes and allowing further safety and operational studies.
Chiyoda conducts as own practice Intensive Design Review, in which senior engineers from broadview and higher-level viewpoints conduct verification of the performed designs and issues across multi-disciplines.