Chioyoda announced "Review of the Medium-Term Management Plan (2017-2020) Vision for Revitalization" on November 9, 2018. Please refer to
here
for detail.
2013-2016 Seize the Moment, Open up New Frontiers 

Assessment of the previous Medium-Term Management Plan

Chiyoda Group has proceeded the previous medium-term management plan "Seize the moment, Open up new frontiers" for four years between 2013 and 2016. As a result of its exertions, Chiyoda Group could maintain No.1 position in LNG, entry to the new business fields such as offshore and upstream, life science and new energy, while there remains some challenges such as redefinition of business portfolio and further reinforcement of risk management capabilities.

Achievements

Maintenance of No. 1 position in LNG
Entry to the offshore and upstream field
Steady progress in life science and new energy fields – pharmaceutical, photovoltaic, hydrogen
Strategic move into advanced medical and cutting-edge digital technologies
Corporate operations with greater awareness of the social environment, HSE, * and diversity

Challenges

Redefinition of business portfolio
Further reinforcement of risk management capabilities
Enhancement of basic earnings strength
(Stronger resilience to downturns)
Redefinition of global operational structure
(realignment of regional strategies)
Realignment of HR development and utilization policy (strengthen execution capabilities, expand human resource base)

HSE: Health / Safety / Environment
2017-2020  "Mirai Engineering" A Grand Opportunity for the Future
The world is changing drastically arising from a shift of the supply and demand structure for energy, heightened awareness of the global environment, and advances in digital technologies and biotechnologies. Under such situation, Chiyoda group exhibits its technological strength and project execution capabilities that achieve harmony between Energy and Environment as its core value and contributes to the development of a sustainable society. Further, Chiyoda Group aims corporate management, that all stakeholders identify with and can rely upon.
As the Medium-term Management Plan shows Chiyoda Group pursues Structural Reform which builds a basis of corporate management for future growth and Growth Strategy which expands its business portfolio based on 10-year view simultaneously.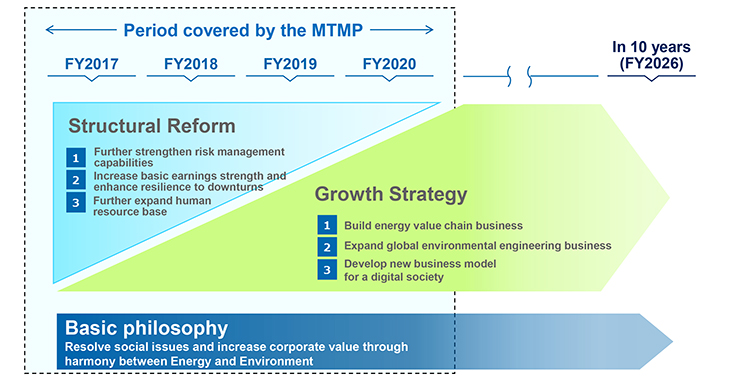 "Mirai Engineering" derived from integration of three growth strategies.