Management Team (Representative Directors)
As of July 1, 2021
Mr. Masakazu Sakakida, Chairman of the Board & CEO
Mr. Sakakida Joined Mitsubishi Corporation in 1981, engaged in plant business in Heavy Machinery Department. After four years at a plant site in South Korea, eight years as a project manager in China, and four years in New York, appointed as General Manager of Plant & Heavy Machinery Unit and GM for Group Strategy Planning, Machinery Group. In 2013, appointed as Senior Vice President, Chairman & Managing Director of Mitsubishi Corporation India Private Ltd., and concurrently as Deputy Regional CEO, Asia & Oceania (South Asia). In 2017, appointed as Corporate Functional Officer and Member of the Board, Executive Vice President, with responsibility for Corporate Administration, Legal, Corporate Communications, and Corporate Sustainability & CSR, and concurrently as CCO and Officer for Emergency Crisis Management Headquarters (Japan & Overseas / New Infectious Diseases, Compliance). In June 2021, appointed as Chairman of the Board & CEO at Chiyoda Corporation.

Looking ahead to the rapidly changing external environment, especially a low-carbon/ decarbonized society, I would like to steer the company with high aspirations so that it can make the most of our engineering and project management capabilities and continue to be trusted by society and all stakeholders.
In order to steadily achieve the updated Revitalization Plan, I will bring the power of all employees together and strive for a strong group capable of overcoming difficulties.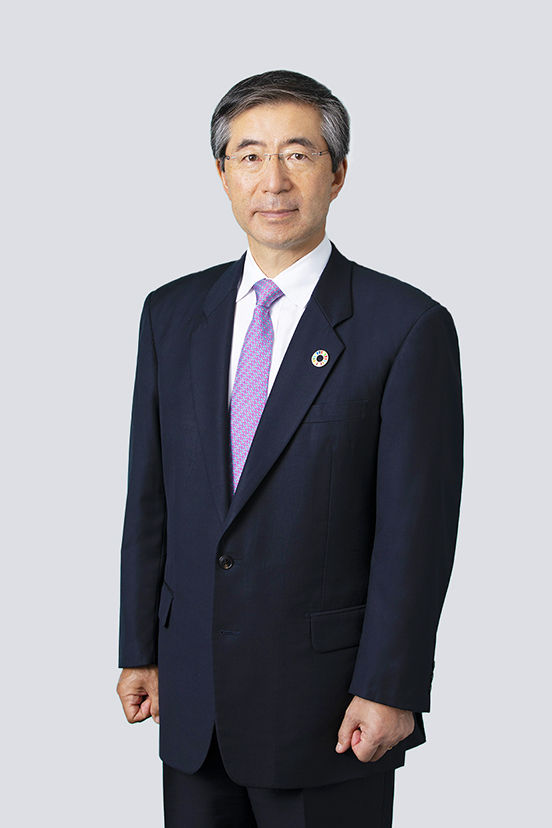 Mr. Masaji Santo, President & COO
Mr. Santo joined Mitsubishi Corporation in 1981. He resided in Houston, U.S. for 7 years and Chile for 8 years, after studying in Spain. In 2012, he was appointed as Senior Vice President, Div. COO of Environment & Infrastructure Business Division and in charge of various infrastructure related business including oil & gas, transportation, industrial facilities and water treatment. In addition, he promoted environmental related business which includes materialization of hydrogen supply chain in collaboration with Chiyoda. He was assigned as an external director of Chiyoda for 3 years from 2013. In 2016, he took the post of Senior Vice President, Regional CEO, Latin America and resided in Brazil, and was responsible for overall control of Mitsubishi's business in Latin America countries.
Mr. Santo joined Chiyoda in April 2017 as a Senior Executive Vice President, and became President & CEO in June 2017.

I, as the Chief Operating Officer, will make every possible effort to accomplish the revitalization plan with an indomitable spirit to respond to trust and expectation from all stakeholders.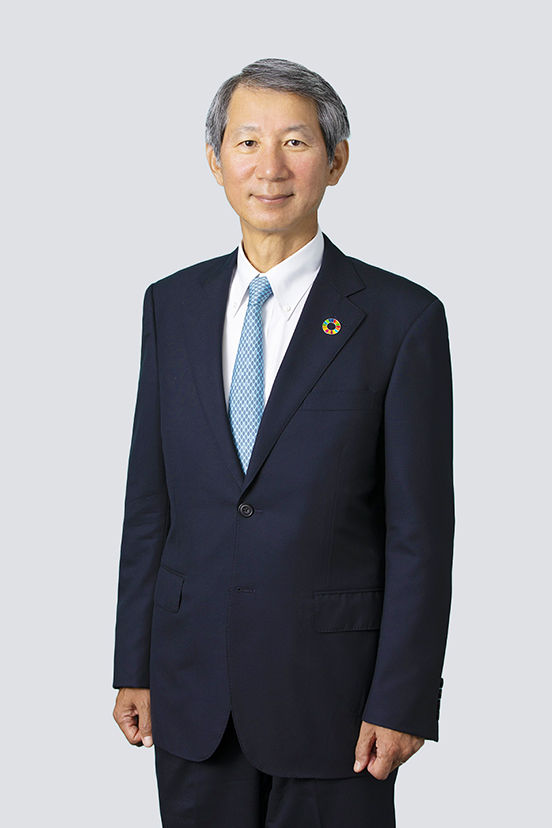 Mr. Koji Tarutani, Executive Vice President & CFO
Mr. Tarutani joined The Bank of Mitsubishi (later MUFG Bank) in 1986. He was responsible for the planning and development of business transactions of domestic and overseas departments including financing, investigations, analysis and credit risk audits etc. Upon taking up the positons of General Manager of Corporate Risk Management, Audit and Legal Departments, he expanded his expertise in developing risk management systems and reinforcing global governance systems.
Mr. Tarutani joined Chiyoda in June 2019 as Representative Director, Executive Vice President and CFO.

Taking the rapid changes in our business environment as an opportunity, I will strive to create a flexible and strong organization in which each employee can think and act on their own initiative to innovate and improve themselves, and boldly take on challenges to materialize our corporate philosophy "Energy and Environment in Harmony".
Members of the Board
| | | |
| --- | --- | --- |
| Chairman of the Board & CEO | Masakazu Sakakida*1 | 〔CWO〕 |
| President & COO | Masaji Santo*1 | 〔CSO〕 |
| Executive Vice President & CFO | Koji Tarutani*1 |   |
| Director | Tsunenori Kazama |   |
| Director | Masao Ishikawa |   |
| Director | Aiichiro Matsunaga |   |
| Director | Nobuo Tanaka*2 |   |
| Director | Ryo Matsukawa*2 |   |
Director, Audit and Supervisory Committee Members
| | |
| --- | --- |
| Director, Audit & Supervisory Committee Member | Shingo Torii |
| Director, Audit & Supervisory Committee Member | Mika Narahashi*2 |
| Director, Audit & Supervisory Committee Member | Hisashi Ito*2 |
Executive Officers
President
Masaji Santo
〔COO
 CSO〕
Executive Vice President
Koji Tarutani
〔CFO〕
Executive Vice President
Fuminori Hasegawa
 
Executive Vice President
Hiroyuki Shimizu
 
Senior Vice President
Shuichi Wada
〔CCO
 CHRO〕
Senior Vice President
Masao Fujiwara
 
Senior Vice President
Setsuo Iuchi
 
Senior Vice President
Hideo Matsui
 
Senior Vice President
Toshiya Momose
 
Senior Vice President
Norimasa Matsuoka
 
Vice President
Toshiaki Furugori
 
Vice President
Masakazu Fujiwara
 
Vice President
Munetaka Horiguchi
 
Vice President
Yasuyuki Maeda
 
Vice President
Junichi Kunihiro
 
Vice President
Kenichi Ishiguro
 
Vice President
Masaaki Oishi
 
Vice President
Tetsuya Konno
 
Vice President
Masaki Kumagai
〔CDO〕
Vice President
Toshiaki Saito
 
Vice President
Takayuki Naito
 
Vice President
Hidehiko Suzuki
 
Vice President
Naoki Kobayashi
 
*1: means a representative director.
*2: means an external director as provided for in Article 2-15 of the Company Act.
Abbreviation
CEO  :Chief Executive Officer
CWO  :Chief Wellness Officer
COO  :Chief Operating Officer
CSO  :Chief Sustainability Officer
CFO  :Chief Financial Officer
CCO  :Chief Compliance Officer
CHRO :Chief Human Resources Officer
CDO  :Chief Digital Officer