Dehydration and Organic Sulfur Removal Process Using Molecular Sieve (MS Treater)
Gas treated in the AGR process contains water. The MS Treater uses a process based on the molecular sieve to remove and reduce the water content to the predetermined level. The molecular sieve is mainly made up of zeolite, which has a high adsorbing capacity that removes water from the gas. When mercaptans are removed, a different kind of zeolite is added. Fuel gas is heated for the regeneration (desorption) of the molecular sieve. For molecular sieves with the dehydration function, the spent regeneration gas is directly returned to the fuel gas system. A typical flow chart of the process is shown in an attachment. For molecular sieves that remove mercaptans, the spent regeneration gas is treated by the physical absorbent to remove mercaptan and then returned to the fuel gas. Mercaptans are regenerated in the regeneration plant and sent to the SRU as mercaptan acid gas. A typical physical absorbent process is the Selexol process of UOP. The flow chart for that process is similar to that for AGR.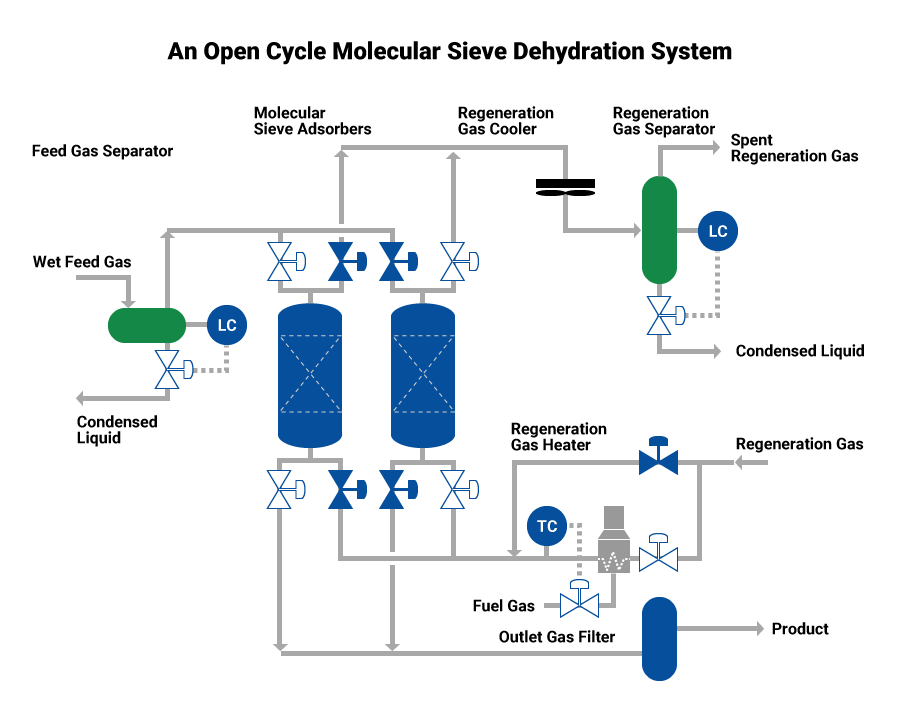 The typical molecular sieve process and its regeneration gas treatment process are the UOP MOLSIV process and UOP Selexol process, respectively. Chiyoda has plenty of design and construction experience as well as a full knowledge of its characteristics.
The MS system can be used feed gas including Water, Mercaptan and/or Heavy hydrocarbon gas.
Key projects