Supporting to Qatar's Further
Prosperity and Stable Energy
Supply to the World

- Qatar Laffan Refinery 2 Project -
Qatar's Economic Development
through Abundant
Natural Gas
In 1971, Qatar and Japan established diplomatic relations. With the discovery of North Field that same year, Qatar became one of the world's largest natural gas suppliers, which helped spur Qatar's prosperity.
Since the1970s, Chiyoda has been engaged in various hydrocarbon projects such as being the contractor in EPC (Engineering, Procurement and Construction) projects. In LNG plant construction, Chiyoda has built 12 out of 14 trains (*1) of LNG plants in Qatar, which made Qatar the world's largest LNG producer, producing 77 million tons per year.
With no new development since 2005, Qatar has been selling its existing light natural gas component as LNG, and heavy components as condensate (*2). To add more value to the condensate, Laffan Refinery 1 was built in 2009 to refine the condensate into LPG, naphtha, and aviation fuel. Laffan Refinery 2 (LR2) was built in 2016 to further expand Qatar's refining capacity.
1. A unit of LNG process plant. Depends on plant capacity, one Train can reach 600 meters in length, 200 meters in width and 60 meters in height at the largest scale.
2. Naturally liquid components in natural gas production. Used as fuel and chemical raw materials.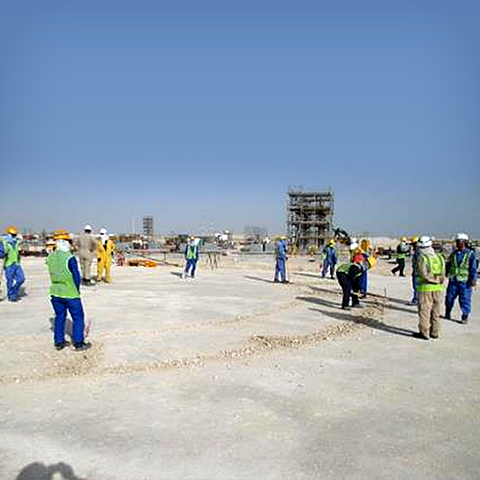 LR2 construction was a battle against the schedule
To conduct engineering and procurement work with our joint venture partner, a Taiwanese engineering company, we moved to Taipei and set up the project just after the contract was awarded. We completed engineering and procurement in about one and a half years in Taipei as per the schedule, and moved to the construction site in Qatar.
Since the LR2 plant was to be constructed in Ras Laffan Industrial City area where numerous plants were already in operation, Chiyoda first had to coordinate and negotiate to obtain approval for each construction activities from various companies and facilities, the key to a timely schedule.
Qatar's exceptionally hot and humid weather during summer, with temperature over 40 degrees Celsius and humidity nearly 100%, was a serious obstruction to our schedule. To protect workers from the severe weather, one of our heat-stress-related safety systems involved using color-coded flags reflecting the Heat Index (*3). This flag system had five colors: At one end of the spectrum, black flags meant stop working completely; and at the other end, green flags meant working with 10-minute breaks every 50 minutes. This system provided guidelines for staff at the site to work safely. Unfortunately, at the same time, it reduced and limited the working time, a big concern to the work progress. From mid-July to early September in 2016, the period right before the completion of the work, the black flag was raised almost every day, all day during the daytime, and even after sunset at worst times. The work could only be done around midnight, making the construction very slow.
3. The function of temperature and humidity, the higher the numerical value, the harsher work environment
Safety is the shortcut to timely completion
Despite the schedule constraint, Kazumi Ikeda, LR2 Project Director, made workers' safety his number one priority.
"My first priority was that everyone return home safely every day. I strongly believe safety cannot be achieved by strictly imposing rules top-down, so I was focusing on a bottom-up method, to make every worker think for themselves about what is dangerous and what is to watch out for, so that everyone goes home safely." Chiyoda is a safety culture oriented company.
However, simply stating the philosophy wasn't enough, so Ikeda stood at the entrance gate of the work site every morning and welcomed nearly 5,000 workers during the peak times by shaking hands. He said, "It is unavoidable that there is a gap due to hierarchical relationship between management and workers. By greeting and shaking hands every morning, management strived to create a feeling that we are the same people working together at site, that we genuinely care about everybody's safety. "
Through fostering a high level of safety awareness, no fatal accidents occurred in the project, and everyone was able to return to their families. In addition, we achieved at maximum 20 million hours without (a lost time) incident, resulting in the completion of the LR2 Project on time.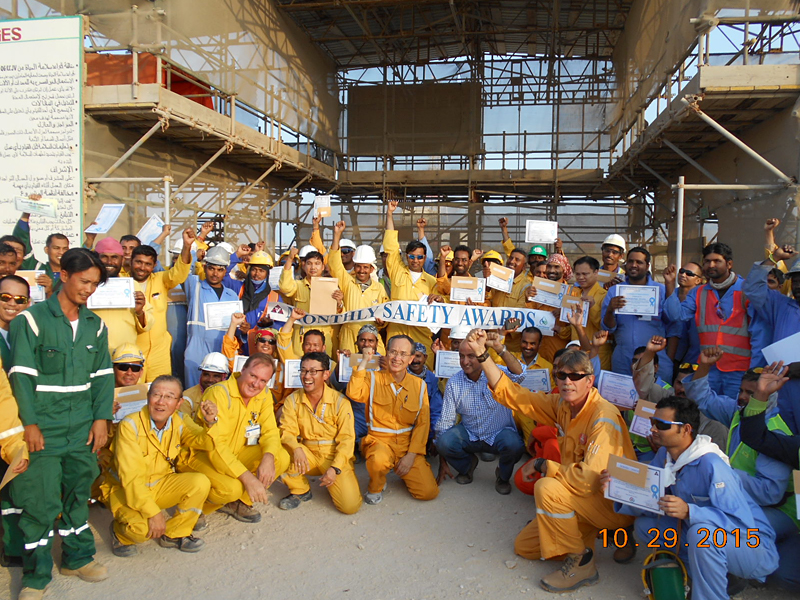 Building a trusting relationship between Qatar and Japan through the project
By successfully completing many projects in Qatar, including LR2 and 12 out of 14 LNG trains, Chiyoda has gained Qatar's trust. Normally the project ends when the construction is completed, but in 2008, Chiyoda Almana Engineering Ltd was established as a part of plant life cycle engineering to support our customers by continuing to provide technical support and engineering training even after the plant completion.
In April 2017, after the end of moratorium of gas development, Qatar announced the resumption of development aimed at increasing production of LNG. Chiyoda was appointed as partner for developing new gas production from local customers, and is currently proceeding with the project. This is because Chiyoda has gained a trusting, working relationship with its Qatari customers through numerous projects.
Ikeda added "As a company, it is our duty to faithfully respond to customer's requirements. Being able to be the bridge between countries is the greatest achievement as an engineering company. We hope to build a sustainable, long lasting relationship between the two societies through our projects."