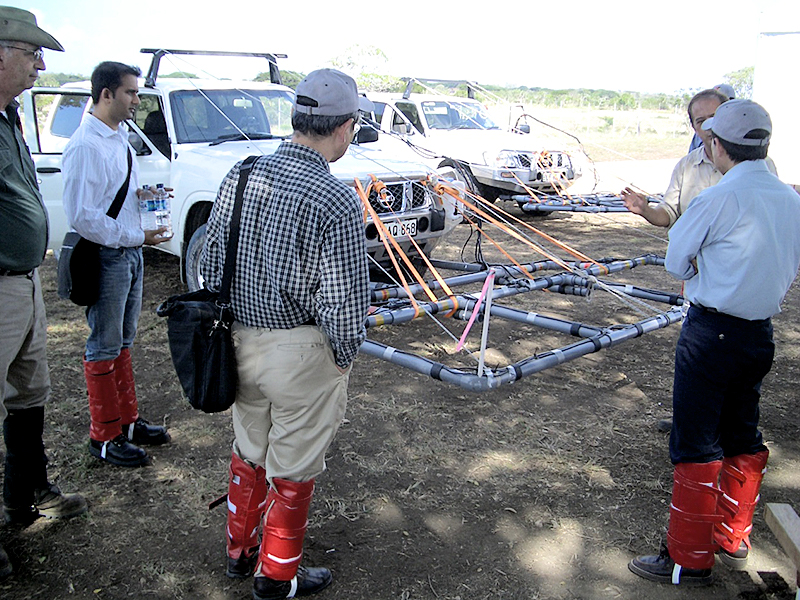 Chiyoda's First Project Experience in Papua New Guinea
The Papua New Guinea government and several oil and gas companies studied the feasibility of natural gas plant development in the country since 1990s. Chiyoda became involved since 2008 as a contractor for Front End Engineering Design (FEED*1) and started extensive site and territory surveying works by sending a survey team several times. During the period aspects such as infrastructures around the construction site, port facilities, roads, environment impact considerations, general health and hygiene standards, country security stability, local regulations, customs clearance processes, the availability of subcontractors and their capabilities were studied.
Consequently, after the FEED work over one year, Chiyoda won in a competition and was awarded the Engineering, Procurement, and Construction (EPC*2) contract in December 2009 and commenced with their journey to project excellence in Papua New Guinea.

Challenges in Construction Site
The construction site was located within an area that was subjected to multiple bombing during World War II. Therefore, extensive removal of unexploded ordnances and clearing the site of artifacts was conducted at the start of the EPC phase.
As the area could be described as tropical, typical diseases had to be managed. Mosquitoes carrying malaria and dengue viruses were a major concern, necessitating prevention and control measures. In addition to stringent vector control measures such as regular mowing of grass, eliminating water puddles and fumigation, non-national personnel had to comply with the chemoprophylaxis program at site. Every day taking their anti-malaria tablets.
Occupational / industrial incident prevention was another major challenge. Mr. Anai, the Project Manager recalled that following three (3) significant injury cases within a six month period during 2011 last quarter to 2012 1st quarter, the project members did extensive research and visited several other international projects, in different countries, to understand how other contractors manage occupational safety within developing countries.
The project team concluded with a program that incorporated practical safety measures and training experiences that could be easily understood by all. This, with a clear message that honest and timely two-way communication among all workers, supervisors and managers is of vital importance, were found to be key to incident prevention. Effective communication, taking ownership of personal safety and demonstrating care for each other like within a family, resulted in all people speaking up when they saw at risk behaviors or unsafe conditions.
As people changed their attitudes and began to care for each other and spreading this safety mindset, our workers started to greet us (management) and talked to us. This safety mindset combined with proactive intervention eventually led to the project achieving a safety record of more than 65 million man-hours without recordable injuries. This was the best safety performance of all Chiyoda's LNG plant projects.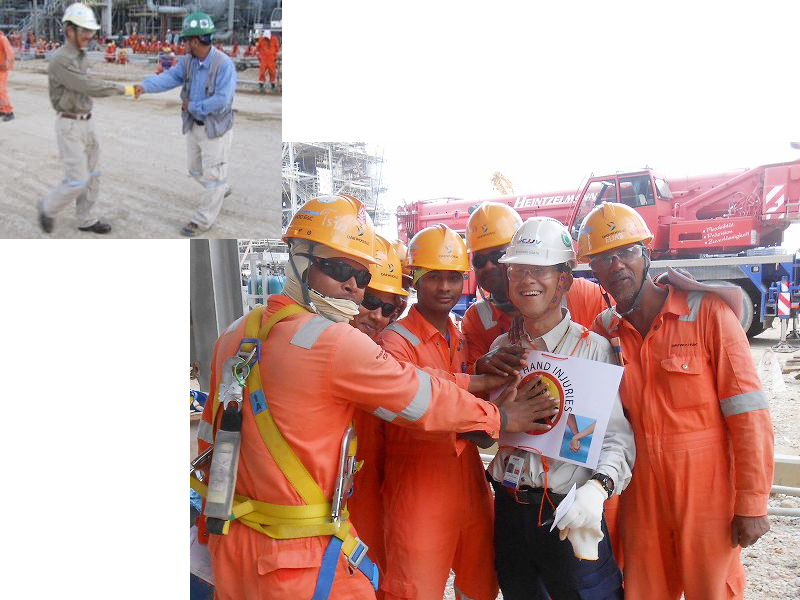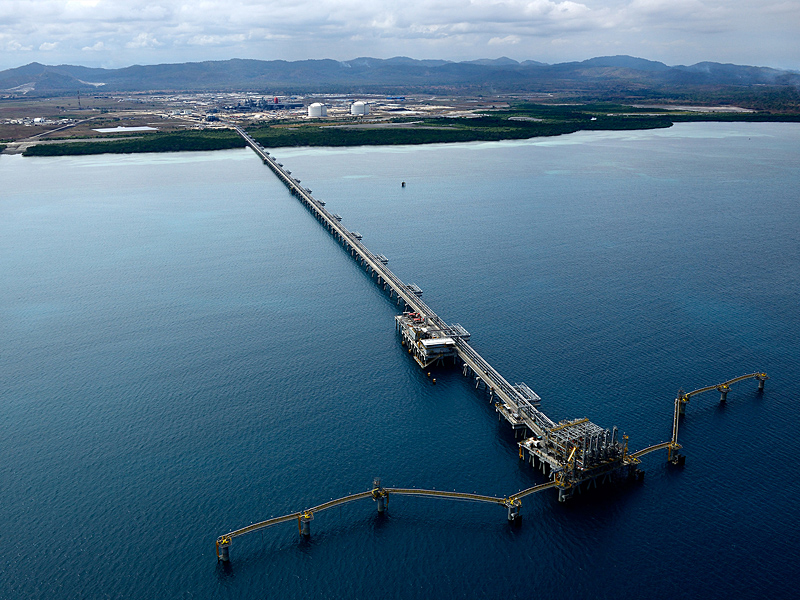 Ensuring Harmony between Construction and Environment
Papua New Guinea is known for its beautiful and undisturbed rainforests and mangrove along the coast lines with a diverse variety of fauna and flora that require stringent conservation measures.
To ensure compliance to legislation, standards and our moral obligation to protect the ecosystem, unconditional environmental protection measures were taken.
Mr. Munakata, the Project Engineer, explained that a high level of attention was given to construction methods to minimize environmental impact. Therefore, the most environmental friendly construction method was adopted with regards to the transfer of liquefied natural gas (LNG) along a distance of 2.4 kilometers from the plant to the ship loading facilities to ensure the natural vegetation and reefs remain in a pristine condition.
We built environmental friendly sewage treatment facilities to handle wastewater and outfall from the accommodation village in construction site that housed more than 10,000 workers.
Strict waste management controls were observed. All wastes were segregated and hazardous waste that we were unable to handle locally was shipped in accordance to International Standard to Australia for processing. General waste was dealt with as per national and international requirements.
The fact that the color of the beautiful blue ocean never changed during the construction of the LNG Plant, proves that our environmental conservation measures were effective.

Challenges in Technology
Chiyoda's journey to project excellence in Papua New Guinea also faced several challenges related to technical matters.
According to Mr. Anai, an example was the aircraft gas turbine to power process compressors.
The aircraft gas turbine had greater fuel efficiency and lowers CO2 emissions than a regular industrial gas turbine. However and despite it being relatively light in weight, required regular preventative maintenance. The use of an airplane gas turbine in liquefaction process was a new challenge for us within our experience.
As we had to control several turbines simultaneously with smooth starts and stops of the compressors, we had to perform the dynamic simulation with various scenarios and incorporated optimized logics into the control system.
We also worked on the many other challenges together with customers, partners and relevant parties in a "One Team Spirit".
As a result, we could complete this project successfully and the customer satisfies the stable operation and production of the LNG over the expected capacity.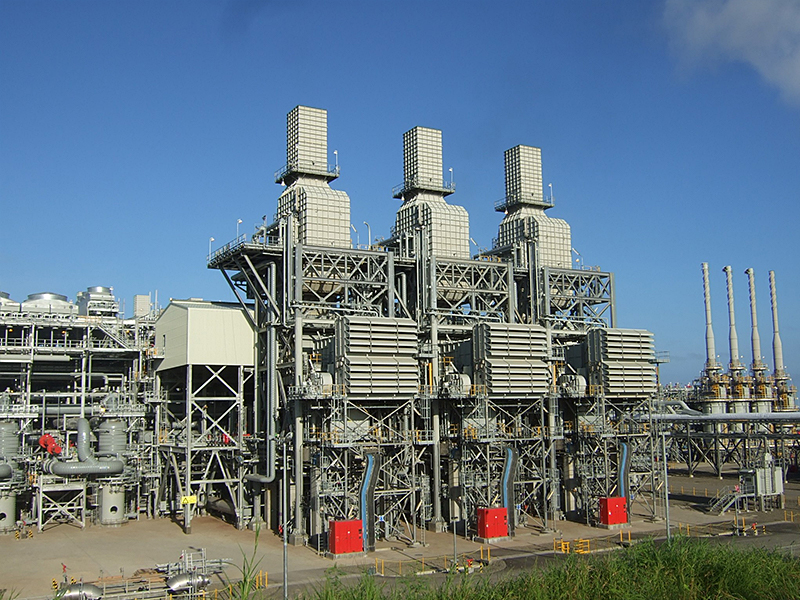 Our journey, despite its challenges,
led to joy and a happy workforce
Chiyoda staff members and workers completed the LNG Plant Project successfully, leaving behind a legacy for the country and everybody who was involved with the Project.
A motto of "passion, enjoy and never giving up" inspired all to confront and overcome the challenges within this pristine country site.
Mr. Anai concluded by saying, "There were many challenges associated with this project and as the project came to an end, all the team members were extremely thrilled and proud to be a part thereof. Working on this project was one of the most memorable experiences in my lifetime."