Offshore oil and gas developments are evolving from shallow to deepwater. The development of methane hydrate reserves in areas of deepwater off the coast of Japan are also drawing increasing global attention.
A typical development process consists of four (4) stages. "Exploration" is the 1st stage that involves the discovery of oil or gas prospects through geophysical and geological study and exploration. "Development" is the 2nd stage that assesses the recoverable reserves by drilling some appraisal wells and analyzing the data obtained from the appraisal well. At this time, the operator will determine a development plan detailing key development milestones. Through conducting the following sequential studies; feasibility study, concept select study and FEED, the operator will consider the continuation of the project at a stage gate called 'final investment decision' (FID). Following approval of FID, the "Execution" stage of the project is conducted to execute the detailed Engineering, Procurement, Construction and Installation (EPCI). Upon completion of construction and production startup of the development the operator will move into the "Life of field" stage of the development concerned with ongoing asset operations, integrity management and decommissioning.
Chiyoda Group provides innovative solutions for customers to overcome industry challenges through the lifecycle of offshore Oil & Gas development value chain along with Xodus Group, who specializes in the consultancy and engineering in the offshore oil & gas business, and other partner companies.
Chiyoda Group also participates in the development of offshore methane hyrate producton as a member of Japan Methan Hydrate Operating Co., Ltd. (JMH).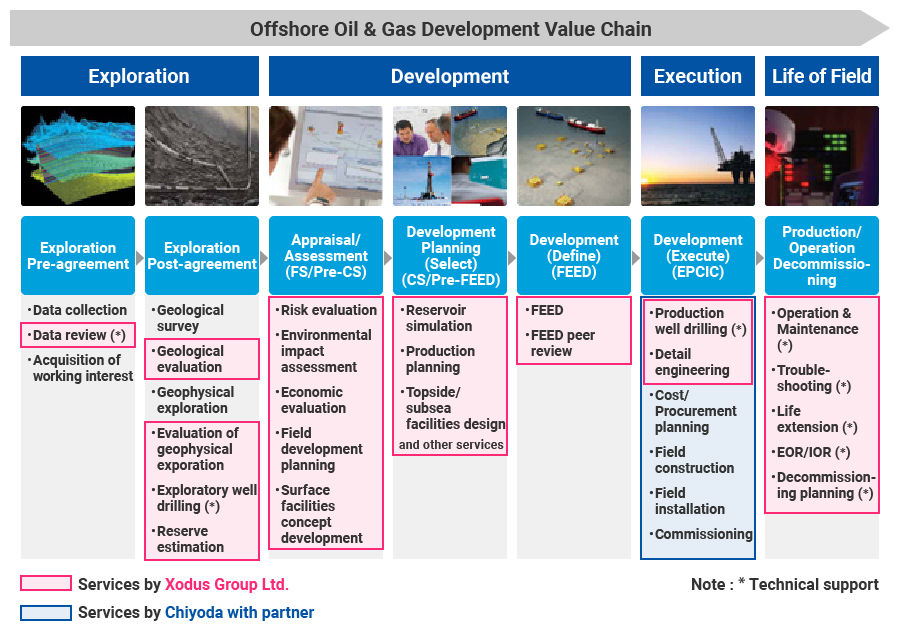 Exploration / Development

The Chiyoda group can provide the following services in the planning phase for development of offshore hydrocarbon fields.
Execution

The Chiyoda group can provide the following services in the EPCI phase for shallow, deep and ultra-deepwater fields.
Life of Field

The Chiyoda group can provide the following services in the operation, maintenance & decommissioning of offshore hydrocarbon fields.
Key business and technology
Xodus Group, in affiliation with Chiyoda Corp., has gathered significant project experience for a wide range of customers, including IOCs and NOCs, since its establishment in 2005.
Xodus Track Record: http://www.xodusgroup.com/experience