"Serving Society with Technology" is the philosophy of Chiyoda's foundation. Bearing this in mind, we have undertaken research and development, demonstration projects and commercialization of energy and advanced environment-related technologies.
Making the most of our strengths as an engineering firm, we are able to take such a comprehensive approach to research and development as it is integrated with process development, design and system analysis. With this approach, we have carried out technology development both on our own and in cooperation with our clients and technology owners, aiming for commercialization and problem-solving based on society's ever-changing demands. We will continue our efforts to contribute to solving new issues including materializing a low-carbon and carbon-free society.
NEXT-GENERATION CLEAN ENERGY
A demonstration plant for renewable jet and diesel fuels




As a business partner in the "Domestic Biofuel Project," led by euglena Co., Ltd. (Euglena), we are currently participating in the construction of Japan's first renewable jet and diesel fuel demonstration plant (to be completed in October 2018).
Using technology that was introduced by our technology owner in the United States, Chevron Lummus Global, Euglena is executing the design, procurement and construction according to Japanese standards.
Led by METI (the Ministry of Economy, Trade and Industry) and MLIT (the Ministry of Land, Infrastructure, Transport and Tourism), the project aims to switch to biofuel by 2020 to reduce the extent of CO2 emissions. The international framework of the ICAO (International Civil Aviation Organization) to prevent CO2 emissions from exceeding the 2020 standard means that the need for jet biofuel is becoming greater than ever.
With know-how accumulated through engineering and the construction of oil refi neries, we continue to collaborate in the commercialization of this technology and further contribute to reducing CO2 emissions.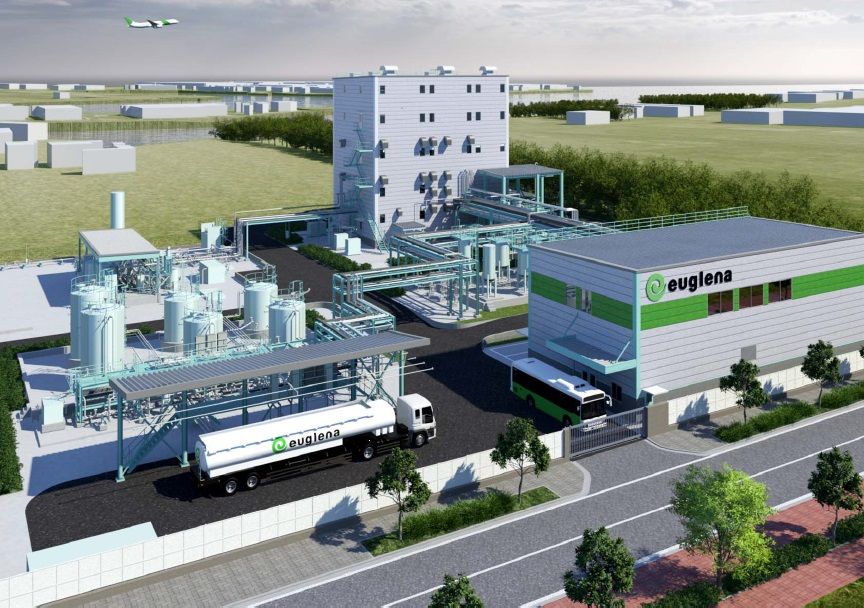 EFFECTIVE UTILIZATION OF OIL FIELDS
Yabase oil field produced-water treatment demonstration plant




Global energy needs are growing, for one reason, because water production from oil fields increases as oil fields age. To maintain high levels of productivity in oil and gas production while concurrently abiding by environmental regulations, more advanced produced-water* treatment technology is needed.
To resolve the problem of produced-water treatment, the Japan Oil, Gas and Metals National Corporation's project known as "Small-Scale Demonstration of Produced-Water Treatment Technology" is being jointly conducted by four companies: the Japan Oil, Gas and Metals National Corporation, INPEX, METAWATER and Chiyoda.
For the project, a demonstration plant was constructed at the Yabase oil field in Akita Prefecture, with operations begun in March 2017 and planned for seven months.
Because the ceramic membrane filter requires no pretreatment such as that for coagulation, the use of chemicals can be greatly reduced. Further, as the membrane can be washed and used repeatedly, no disposable waste will be generated, reducing the environmental burden. It is expected that the filtered water will be reused as injection water for reservoir pressure maintenance in oil fields.
We will continue this domestic demonstration project, aiming to improve the produced-water filtering technology that supplies oil more economically, increases oil field longevity and decreases the environmental burden.
Produced-water: Formation water produced alongside crude oil and natural gas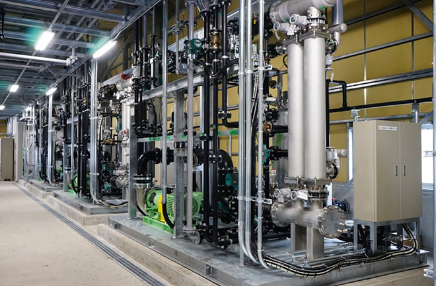 THE DISSEMINATION OF TECHNOLOGY TO PREVENT AIR POLLUTION
CT-121 Licensing of technology to India's major heavy industry manufacturers






In November 2016, Chiyoda concluded a technology license agreement with India's major heavy industry manufacturer Larsen & Toubro (L&T) to provide its proprietary "Chiyoda Thoroughbred 121 (the CT-121)" flue gas desulfurization process (FGD) technology for promotion in the Indian market.
Coal accounts for 75% of the power supply in India, which, with its robust and rapid economic growth, is in need of power plants to sustain development. The demand for FGD plants is increasing significantly, as the demand for coal is firmly rooted in its cheap and stable price. While coal-fi red thermal power provides 42% of the world's energy, that figure is expected to reach 44.5% by 2030.
Under these conditions, CT-121, the environmental technology highly evaluated by L&T, will continue to meet the demands of India's economic growth while helping to resolve its environmental issues.
TECHNOLOGY DEVELOPMENT OF HYDROGEN ENERGY
SPERA Hydrogen system® receives the top prize of the Nikkei Global Environmental Technology Awards






Hydrogen is considered a clean next-generation energy, and the dissemination of hydrogen fuel cell vehicles and ENE-FARM (home-use fuel cells) as well as practical realization of hydrogen electricity generation are being promoted by the government. In this respect, it is essential to develop a technology for hydrogen to be "stored" and
"transported" in a stable state and in large quantities like natural gas and oil. Such technology has never been available until now.
In 2014, we became the first in the world to complete technological development to resolve this issue. This system has been named "SPERA" meaning "hope" in Latin. There are high expectations for this technology, which has been highly evaluated both domestically and internationally, and has received numerous technology awards such as the top prize in the Nikkei Global Environmental Technology Awards. We will continue to meet these high expectations and to contribute to the global environment.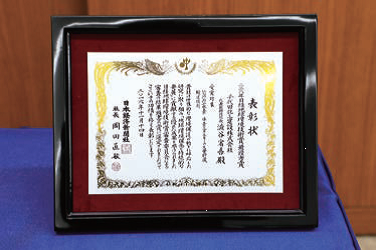 Environmental technology proposal
Chiyoda's energy and environmental technology that creates the future.
Chiyoda's Change to Contribute to the Realization of a Prosperous Society.
CO2 Reforming Process (CT-CO2ARTM Process) 

CT-CO2ARTM (Chiyoda CO2 Reforming Technology) is a unique and advanced technology utilizing CO2 as reforming agent to efficiently produce synthesis gases of varying H2/CO ratios. Synthesis gases are the feeds for producing various chemicals and liquid fuels (GTL-fuels etc.). This technology enables monetization of low-calorie, CO2-containing natural gas fields and can also be applied to efficiently reuse CO2 emitted from various industrial processes. CT-CO2ARTM can also reduce CO2 emissions, capital investment and operating costs significantly. For example, producing syngas with an H2/CO ratio of 1.0 (suitable for oxo-synthesis, etc), CO2 emission, capital costs, natural gas consumption can be reduced 37%, 20% and 12%, respectively, as compared to conventional technologies. CT-CO2ARTM is thus, an environment-friendly technology.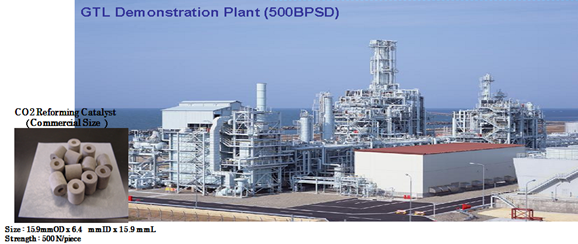 Participating in METI (Ministry of Economy, Trade and Industry) led consortium,
which is conducting an experimental demonstration project in Tomakomai, Hokkaido Island.
EPC for post combustion CO2 capture experiment project for a Coal-fired Power Plant in Fukuoka, Kyushu Island.
The Chiyoda Thoroughbred 121TM (CT-121) Flue Gas Desulfurization (FGD) process is a unique technology developed by Chiyoda which is highly efficient, enabling the low-cost removal of flue gas sulfur dioxide (SO2) and dust.
There are 83 CT-121 units worldwide, and where environmental regulations are stringent, the CT-121 process has more than 20 % share in Japan and the US.
India, with its robust and rapid economic growth, is in need of power plants to sustain their development under newly adopted strict emission gas standard for coal-fired power plants and the demand for FGD plants is increasing significantly.
CHIYODA THOROUGHBRED 121 (CT-121) Flue Gas Desulfurization (FGD) Process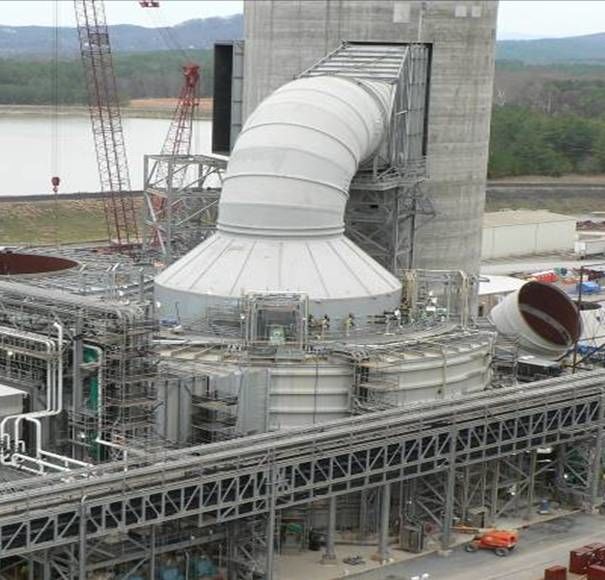 SPERA Hydrogen Chiyoda's Hydrogen Supply Business
Chiyoda Corporation has been proposed the global hydrogen supply chain concept by liquid organic hydrogen carrier (LOHC) with Toluene/Methylcyclohexane system. In this method, hydrogen is fixed to toluene (C7H8) with the hydrogenation reaction and converted into methylcyclohaxane (MCH: C7H14) that is able to be transported with a chemical tanker as same as toluene. In the demand site, hydrogen is generated from MCH by dehydrogenation reaction, and toluene is recovered for the recycle use. LOHC is suitable for large-scale storage and long distance transportation due to the ambient condition with the low potential risk.
Commercialization of Chiyoda Hybrid Titania (CT-HBT) catalyst for the hydrodesulfurization (HDS) of diesel oil
Removal of sulfur from gasoline or diesel oil leads to the discharge restraint of the air pollution material and plays a big role for reduction of the environmental load. Chiyoda has successfully developed and commercialized the novel Chiyoda Hybrid Titania (CT-HBT) catalyst for catalytic hydrodesulfurization of distillate (kerosene, diesel oil). CT-HBT catalyst has both the superior reactivity of the titania catalyst and superior material properties of the alumina catalyst. CT-HBT catalyst has been installed into the hydrodesulfurization unit for kerosene/diesel oil at Yamaguchi refinery of Seibu Oil Co., Ltd. as the commercial first unit. This unit has shown satisfying performance through block operation between LCO (Light Cycle Oil*) mixture diesel oil and kerosene since a startup in January, 2014. CT-HBT catalyst which has high desulfurization activity is able to convert LCO of difficulty desulfurization characteristics to a value-added expensive diesel oil product. For example, LCO obtained as by-product from FCC (fluid catalytic cracking) unit have been able to be slightly mixed with GO (Gas Oil) fraction because of it's difficulty in desulfurization and most of them have been used as the diluent of the heavy oil until now, but CT-HBT catalyst make it possible to mix the comparative amount of LCO and turn it into a value-added high diesel oil product. Chiyoda continue development of CT-HBT catalyst aggressively based on these results and contribute to the reduction of the environmental load.
Catalytic cracked gas oil obtained from FCC unit with feed of VGO (Vacuum gas oil) or residual oil.