Development Project Initiatives on the Northernmost Energy Frontier -YAMAL LNG Project-
The philosophy of the Chiyoda Group is to "Enhance our business in aiming for 'harmony between energy and the environment," and "contributing to the sustainable development of society as an integrated engineering company through the use of our collective wisdom and painstakingly developed technology." In that spirit, we are contributing to the development of society by transcending the frameworks of regions and corporations to provide high-quality plants for a stable supply of energy. This feature article introduces the Yamal LNG Project as one such example of this approach.
We are engaged in the construction of Yamal LNG Plant project located in Yamalo-nenets Autonomous Region, Russia, as a member of the joint venture (JV) composed of TechnipFMC, JGC and Chiyoda. Chiyoda's involvement in this project is based on the recognition for its achievement of the successful project execution in Russia; Sakhalin 2 LNG Project.
The contract for this project was signed in 2014. This project is such a huge scale undertaking that the construction of a LNG plant with three lines producing 5.5 million tons annually is to be completed in five years. The LNG it produces will be exported to China, Spain, France, and other countries.
The construction site is located at the severest natural environment in Russia at a latitude of 71 degrees north. The winter season occupies eight months of the year. In the winter the sun never rises, and in the summer, it never sets. Since operations are carried out in a harsh environment where the winter temperature drops as far as -50°C, a modular construction method is adopted. Construction modules, some of which are tall as a 10-story building, were fabricated at various locations in the South East Asia and shipped on large ships to be completed on-site, thereby making this project tackle various challenges.
Further, this region serves as an energy frontier where 22% of reserves of the world natural gas are concentrated, and this project will be the Russia's first large-scale energy development project undertaken in an untapped land under such harsh environment as located on the permanently frozen ground in the Arctic. The JV is based in Paris, from where it manages seven engineering centers and ten module yards set up throughout China, Indonesia, and so on. At its peak, there are fifteen thousand people working on-site to carry out the project.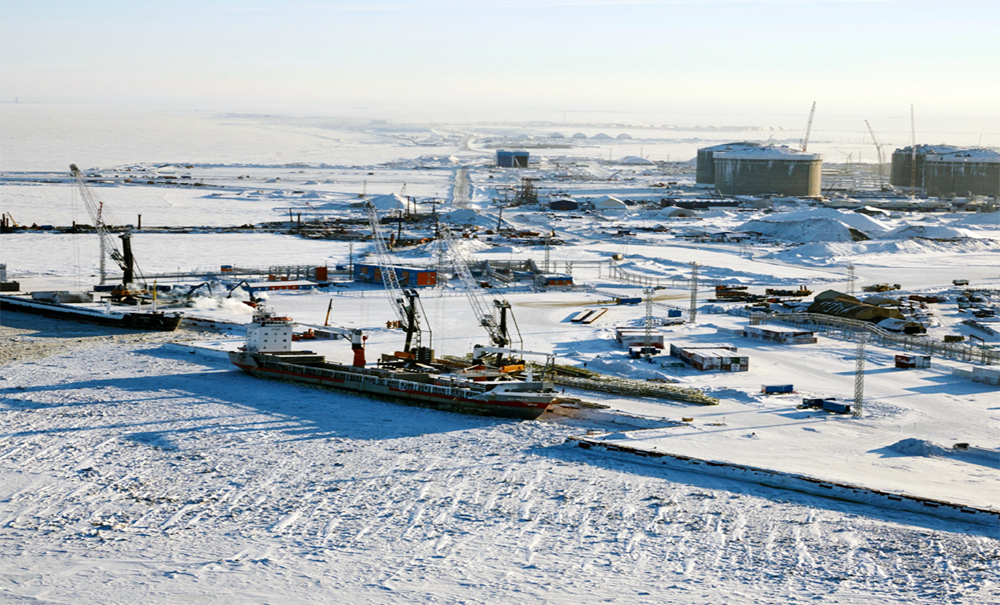 At present, approximately one thousand three hundred (1,300) JV staff members and twelve thousand (12,000) workers under the joint venture supervision are working on the construction site of Sabetta. In addition, there are ten module yards set up in Asia under management by the Paris office of the joint venture, which serves as a central base for execution of this internationally networked project.
Safety measures are being thoroughly implemented at all project sites and offices. These began with a workshop for manager level staff held in 2015, followed by seminars held at every operation center and every module yard, and extending even to subcontractors at the Sabetta site office. Particularly, ten (10) Asian yards attained a great success. On April 28, The World Day for Safety and Health at Work, three (3) members were awarded for their active safety improvement initiatives. Safety Day events are held every three months, and all the members of the project team are engaged together in the Safety First approach.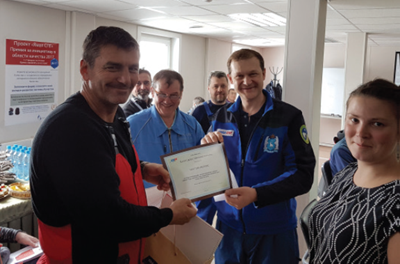 Initiatives for Environmental Preservation
A beach cleaning campaign was held in areas around the plant construction site on September 24, 2016. A large number of employees participated.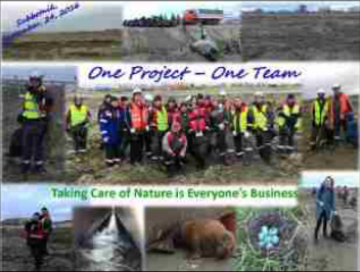 Initiatives for Human Resource Development
Fifteen (15) students from the Moscow State University of Civil Engineering took the opportunity to come and work at Sabetta site office from June 29 to August 19 of 2016. The students had firsthand experience of operations in a number of fields, including construction, quality, HSE, transportation, pre-commissioning, and so on. This gave the students a good opportunity to learn a great deal from the highly experienced members of the joint venture team, as well as to get practical approaches for their own future work, and they were very satisfied. We intend to continue contributing to the development of the engineers of the future.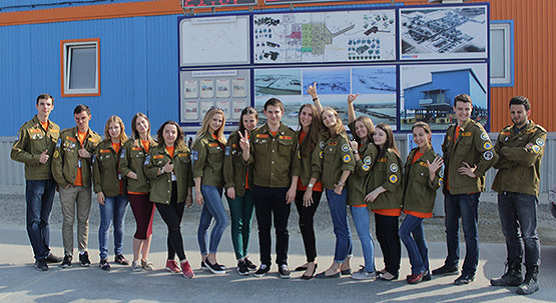 Participation in Charitable Activities
Eleven (11) female members of the Yamal LNG Paris team participated in the most famous women's marathon in Paris, La Parisienne, on September 11, 2016. There were thirty-seven thousand (37,000) runners and the course was 6.7 km long. The entry fees were used to support medical research on breast cancer.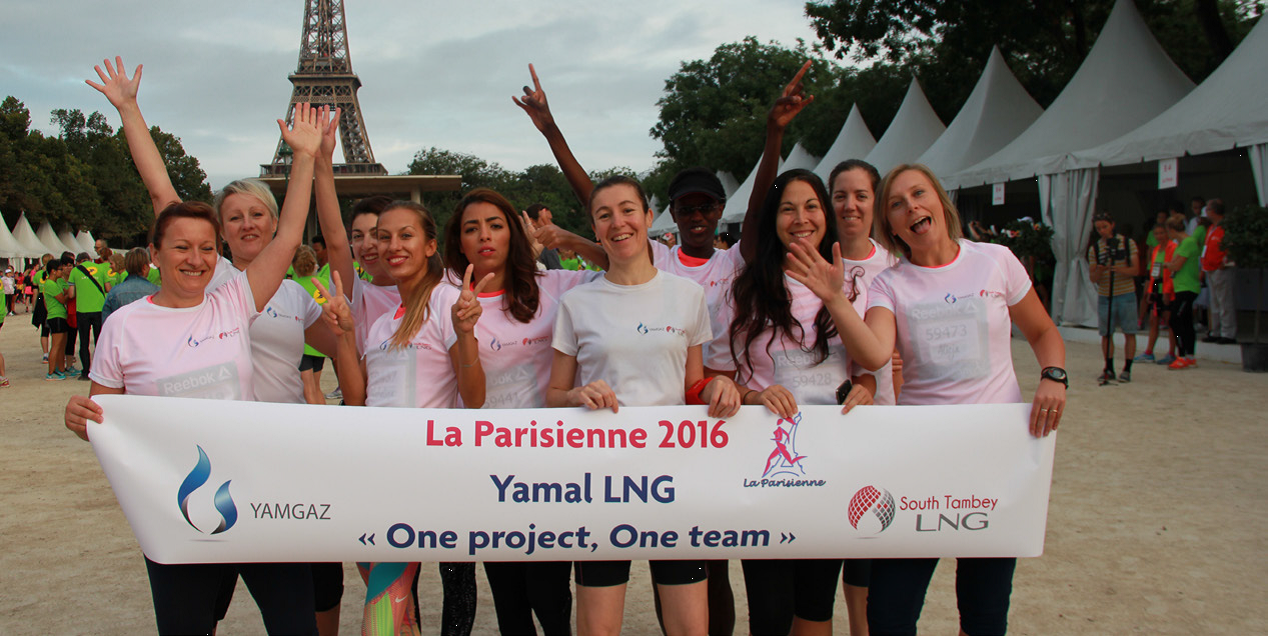 Voice of Employees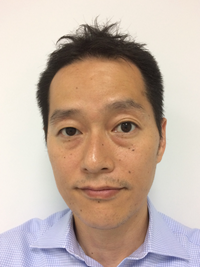 In this project, we are taking the challenge of LNG plant construction in the Arctic, a harsher environment than ever before. Overcoming this challenge enable us to promote development of a gas field with reserves in a territory too cold to be considered readily accessible, and we think this will support the sustained, stable supply of LNG, which is an environmentally friendly energy source. We are making the most of the expertise and technology developed in our past project experiences, and all our employees are joining together as one team in our day-to-day effort to bring this plant to the successful completion.