Global Operation System and Technology Transfer
Paku Gajah Gas Development Project Completed






A consortium we formed with two of our Group companies in Indonesia, PT. Suluh Ardhi Engineering (SAE) and PT. Chiyoda International Indonesia (CII), was awarded a gas processing project contract for the Indonesian state-operated PT. Pertamina EP. The project was brought to completion on a local production for local consumption basis in FY2017.
This is an important domestic project for Indonesia that involves construction of gas processing facilities in the two districts of Paku Gajah and Kuang in southern Sumatra, together with a pipeline connecting them.
SAE acted as the leader and built a system of operation that was under the control of local engineers and also engaged a female engineer from Chiyoda Global Headquarters (CGH). The various types of project methods being used by CGH as well as material procurement, advanced pulsation analysis, and so on were implemented with local operators. In addition, SAE brought in design management and coordination methods using 3D models, which SAE had no experience with, and this enabled it to shorten the construction period.
This project was also very effective in transferring technology to local users, and it made a contribution to building the group companies' technological base. In addition, a joint team was formed with local members to take part in the Jakarta 'Kizuna' (Bond) Ekiden road relay that is held to foster friendship between Japan and Indonesia. This kind of team building activity was one major reason why we were able to implement Group operations, in all their diversity, so smoothly.
We will join as one with our group companies in the future and work together again on supplying energy to Indonesia.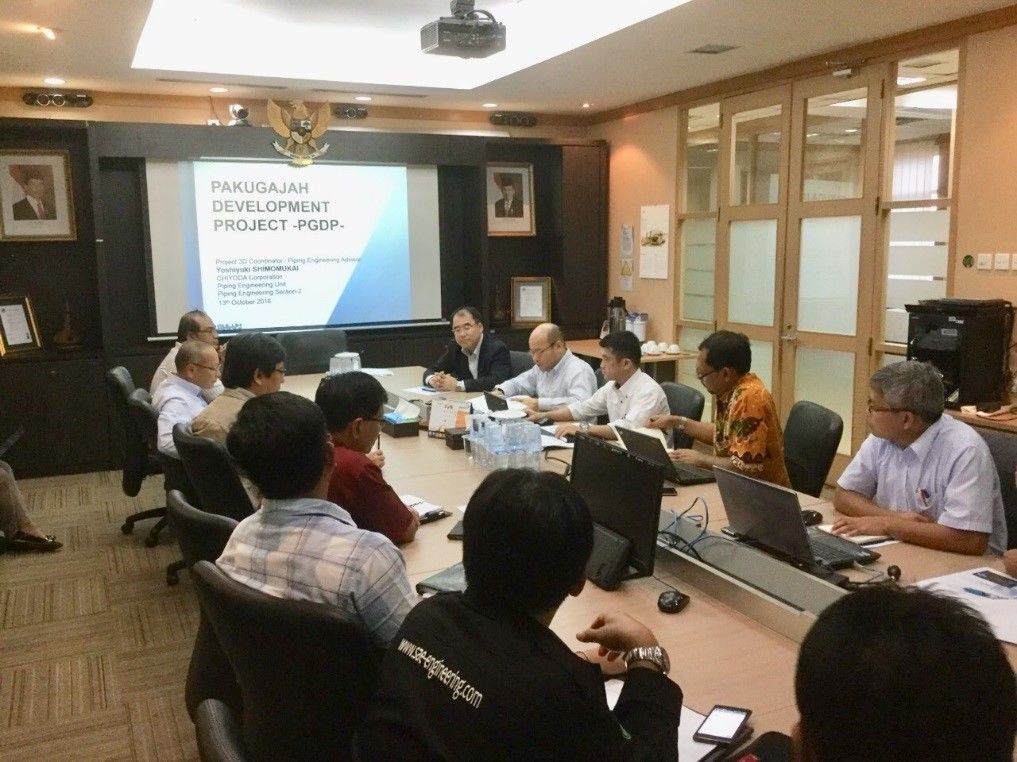 Employee's Voice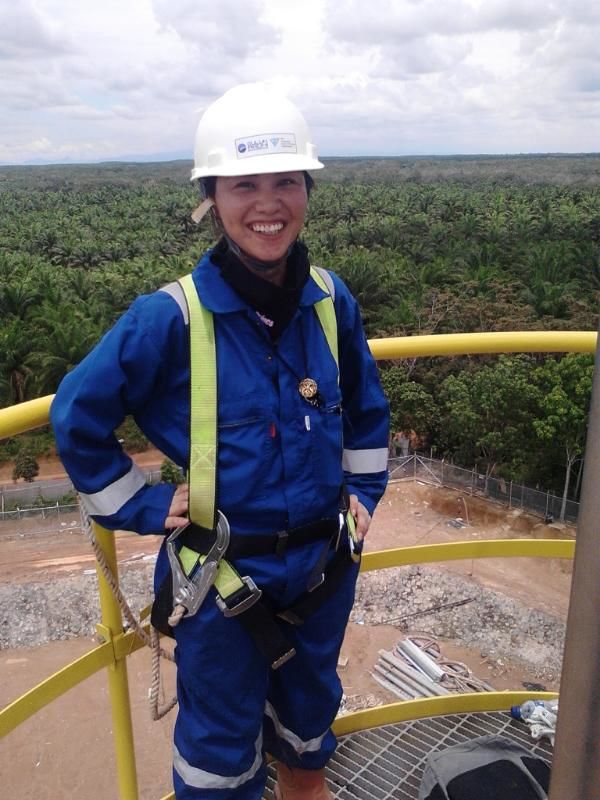 For this project I served concurrently as Deputy Project Manager and Deputy Engineering Manager, so I was in charge of things from design to onsite construction. This was my first time to participate in a project as the PKP*, and I was able to acquire a great deal of valuable experience from being assigned to positions of responsibility.
My work on this project renewed my sense that men and women have the strengths of their respective individual characteristics, and that using those to an advantage contributed to the success of this project, which drew heightened awareness of local initiative.
There still are not very many female engineers, but I will be happy if this project helps to increase appointments of women as PKP.
* Abbreviation for project key person, the main position on a project team
Initiatives for Changes in Work Style
Human Resource Development System
The Chiyoda Group has the human resource development system to strengthen organization and management skills and to support individual professionalization.
In order to realize a workplace where employees can fully demonstrate their abilities, we set up Holidays or Leaves support system.
Further, for employee's self-development activities, there is a system for supporting the employees to acquire qualifications recommended for their duties.
Holidays or Leaves
Annual paid holidays
Employees are granted paid holidays annually. The total days granted are decided according to years of their service, and the employees can take the holidays by the half-day.
Accumulation of Holidays
Paid holidays not taken in a given year can be carried over and used in the following year, or accumulated.
Seasonal Holidays (Three<3> special paid holidays annually)
Employees can add these days to their regular seven (7) paid holidays to take ten (10) consecutive days off in any season, not only for summer. They can also split these holidays into two separate vacations of five days each.
Anniversary holidays
Employees are encouraged to use their regular paid holidays as anniversary holidays for occasions such as their own or family members' birthdays or their wedding anniversaries.
Refresh holidays
Employees who reach ten (10), twenty (20) and thirty (30) years of continuous service are granted five consecutive special paid holidays to refresh their mind and body. They can add these to their ten regular paid holidays to take fifteen consecutive days off.
Vorunteer special paid leave
Employees are granted five paid (5) leaves annually for volunteer activities to assist in restoring disaster-hit areas damaged by natural disasters and the like.
The anniversary of the foundation (one<1> paid holiday)
January 17th
May Day (one<1> paid holiday)
May 1st
Encouragement day of taking paid holiday
All employees are encouraged to take their paid holidays. In 2017, we have three encouragement days. (In January, May and November)
Leave of absence programs for taking along spouse
In case empoyees accompany their spouses,who are also employees and assigned to distant areas (domestic or overseas), they are granted at maximum three (3) years' leave of absence
Reemployment support system
Those, who left the company due to the reasons such as a child care, nursing care ,and accompanying their spouses' assignment (domestic or overseas), can receive support for their reemployment.
Telecommuting system
Employees, who are difficult to commute for a childcare, nursing care, or other reasons, are granted one (1) day a week to telecommute.
Leaves before and after childbirth
Employees, who give birh, are granted special leaves during the period from six (6) weeks* before the expected delivery day and eight (8) weeks after the delivery.* (In case of a multiple birth, fourteen (14) weeks are applied instead of six (6) weeks. )
Child-care leave
Employees, either male or female, can take child-care leaves until their children reach one (1) year and a half.
Shorter working hours
Regular working hours can be reduced by at maximum one (1) hour and a half a day until their children finish the six (6) th grader.
Nursing holidays for children
In addition to the regular paid leaves, to nurse their children, employees are granted five (5) leaves for a child (ten<10> days if they have more than two<2> children), until the children enrolls in elementary schools.
Nursing care leave (on a long peiod basis)
Employees are granted a leave of absence from duty of one (1) year in total per a person to be cared.
Nursing care leave (on a short period basis )
In addition to the regular paid leaves, to care their family members, employees are granted five (5) leaves for a care receiver (ten<10> days if they have more than two<2> care receivers).
Shorter working hours
Regular working hours can be reduced by at maximum one (1) hour and a half a day.
Changing the regular working hours and Setting lights-out at 8:00 p.m.
To achieve creative work execution, sound and healthy life-style, regular working hours are set from 8:00 to 16:36, and lights-out at 8:00 p.m. every night.
Prohibition of Working after 10:00 p.m. and on Sundays
To promote the overall health management of employees, working after 10:00 p.m. and on Sundays are prohibited in principle.
Initiatives to Promote Safety Culture
Using Virtual Reality for Experiential Knowledge of Risks and Danger




Safety is a core value for Chiyoda. We act safely not only for our own good, but also because it leads to safety for our colleagues who work with us and further for all the members of our families, as well. Chiyoda has sought to reduce the unsafe actions and unsafe situations that can cause accidents, and in FY2017 we introduced experiential risk training that uses virtual reality (VR) to heighten employee awareness of safety.
This experiential training is being conducted for all our employees so that they can be safety conscious not only on the worksite and in the office, but in various situations of everyday work and living. In FY2017, we had approximately 260 participants including members of corporate management. For FY2018, we are also considering dispatching personnel with the equipment to worksites in Japan and overseas to conduct the training there.
We intend to reach out to further expanded audiences in future. We will be working with Chiyoda Group employees, customers, and business partners so that people on worksites and in offices can join in measures to promote safety culture and contribute to achieving no accident and no disaster.