Strengthening corporate capabilities through global human resource development

For the engeneering company, People are the property.
In order to further strengthen corpolate power to fight at the world level, the Chiyoda Group conducts various training globally and at the same time is working to strengthen human resource development, which is property for improving corporate value.
Reinforcement of Corporate Strengths by Development of Global Human Resources Global Engineer System





We instituted the Global Engineer system in April 2016 as a measure to develop engineers who are able to perform globally at a higher level at the Chiyoda Philippines Corporation (CPh) and other Group companies. We aim to use this system to raise the level of the Group as a whole as well as to realize true globalization by assigning these engineers flexibly to CGH (Chiyoda Global Headquarters) and Group company jobs.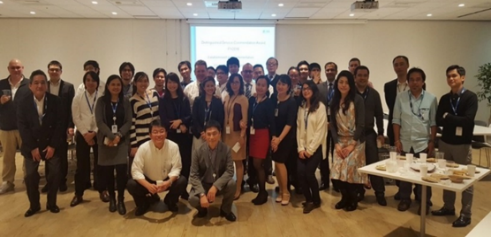 Developing Staff for Commissioning Operations
The Commissioning Department employs staff from the Philippines, India, Europe, America, and other places outside Japan. They receive technical training at CGH in matters ranging from safety, the environment, security, and planning of plant test operations, to implementation of said test operations. Then they are dispatched to construction projects as on-site staff specialized in preparation for test operation. These engineers contribute to project execution as well as to business and growth in other countries.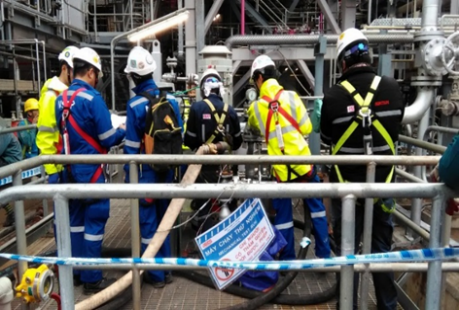 Developing Staff for Risk Management
Corporate Management Division has begun deploying safety, quality, environment, information security, compliance, and crisis management measures globally, providing its services to the entire Chiyoda Group. The First Summit of the Risk Management Division (RMD), held in July 2016, also marked the start of an RMD program to share its personnel concerned with the risk management within the Group. As an initial part of this effort, a global operation platform (GOP) task was started up at the Group headquarters.
During FY2016, quality management coordinators and information security coordinators from CPh were dispatched to CGH for a period of four months each. After that, information security coordinators were dispatched from Chiyoda Almana Engineering LLC.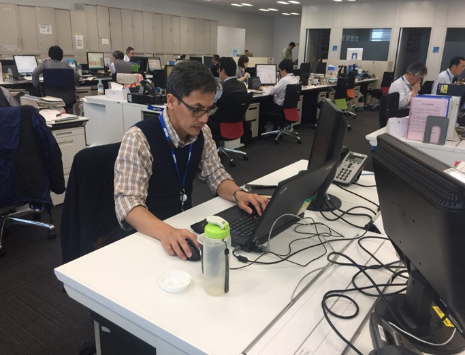 Developing Staff for Quality Management
Chiyoda & Public Works Co., Ltd. (CPW) is preparing for acquiring ISO 9001 (QMS) certification, and CGH is providing full backup for this effort. We therefore hosted a representative from CPW for two months of training not only to support CPW in acquiring QMS certification but also to develop human resources for QMS maintenance and management after receiving the certification. Back in CPW, she will be a staff member with a key responsibility for tasks relating to QMS certification acquisition. CPW aims to eventually obtain management systems certification in safety, environment, and information security as well.
Voice of Employees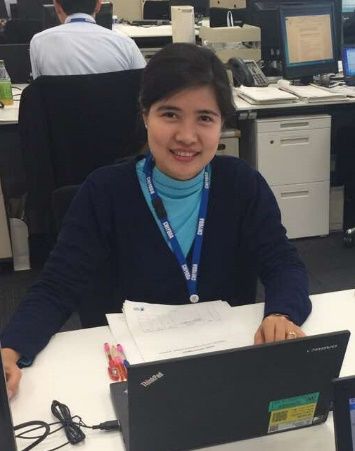 My assignment is to acquire necessary work practice and study in SQEI & Corporate Risk Management Department of CGH, which is great assistance to conduct ISO 9001:2015 Certification process for CPW.
I have learnt a lot about not only QMS but also OHSMS, EMS and ISMS in CGH. Although the organization size is big deference between CGH and CPW, I believe I will be able to apply my new knowledge & experiences acquired here.
Even though my training is two months on-desk training, not on-job training, it is sure I will not be able to work actual activities without this training.
After this training, I will be fully responsible for HQSE* activities in CPW and expect these all things learnt are reflected to work process in CPW denitely.
So, please let me express my sincerest gratitude for giving me the opportunity to visit CGH for training.
Thank you so much for all supports to CPW and me during my stay in Japan.
* Health, Quality, Safety, Environment
Human Resource Development System
The Chiyoda Group has the human resource development system to strengthen organization and management skills and to support individual professionalization.
In order to realize a workplace where employees can fully demonstrate their abilities, we set up Holidays or Leaves support system.
Further, for employee's self-development activities, there is a system for supporting the employees to acquire qualifications recommended for their duties.
INITIATIVES FOR CHANGES IN WORK STYLE IN FY2016




We have been encouraging reform through changes in our employees' mindsets and organizational operations as well as improvements in the operating bases where Chiyoda is 1) a company whose employees are motivated to continue working on a long-term basis and 2) a company that is continually able to develop its competitiveness and strength.
We have developed systems for reduced working hours and for leaves of absence for employees constrained by child care or nursing care. Among our achievements in FY2016, we embraced diversity, made the child care and nursing care systems more flexible and introduced a system to afford retired employees new re-employment
opportunities. Additional steps include:
Leaves of absence for employees working in Japan or overseas to be off with their spouses
Re-employment opportunities for people who have left the company for child care, nursing care or to accompany spouses who have been transferred
Work-at-home (teleworking) opportunities on a trial basis (Note: Full-scale introduction was launched in May 2017.)
These steps were taken to secure human resources willing and able to work and to help retired employees be re-employed when their circumstances change, all enabling us to increase our workforce in an effective manner. We will continue to take steps to increase our productivity and competitiveness by promoting such changes in work style.
In FY2016, Chiyoda Corporation received "Kurumin," a certification for companies recognized for their enthusiastic efforts to cultivate the next generation, granted by the Kanagawa Labor Bureau of the Ministry of Health, Labour and Welfare. Companies can gain this certification by achieving the goals specified in their action plans and by satisfying the criteria set by the bureau.
Chiyoda Corporation obtained the certification after achieving the targets set for the period from April 1, 2010 to March 31, 2015 and for being highly appreciated for the following new initiatives to take from now:
Extending application of a program of shorter working hours to employees with elementary school children up through the sixth academic year, fostering a better balance between work and child care
Consideration of flexible work styles
Reduction of total working hours by enforcing stoppage of work after 20:00 and on holidays
We will continue our efforts to create an environment where employees can perform to the best of their potential.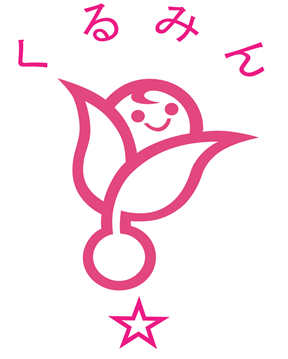 Voice of Employees
Thanks to the Efforts of Many People, We Can Now Make Use of absence program for taking along spouse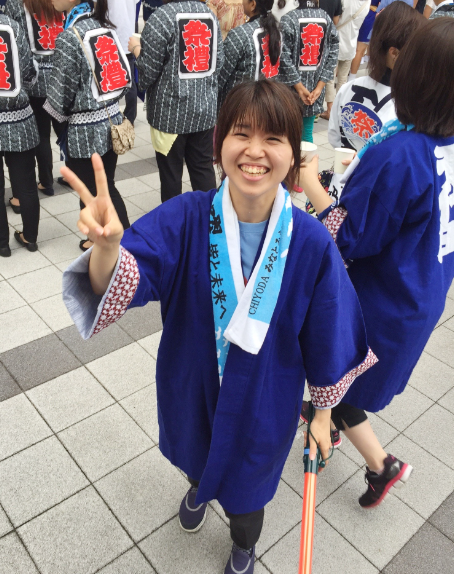 I was working as an engineer in the Gas & LNG Process Engineering Department when my spouse was assigned to Australia. Starting in October 2016, I used the system for leave to accompany my spouse and am now living in Darwin, Australia. Under the corporate efforts to promote work style reform, I felt some hesitation to chose this program, and I think that people who make use of this program will be a very small part of the total number of employees. However, now I am appreciating the company listening to the minority voices of their employees, and gave me the choice of an alternative to continue working from the long term viewpoint.
Chie Tanaka
Human Resources Development Department
Holidays or Leaves
Annual paid holidays
Employees are granted paid holidays annually. The total days granted are decided according to years of their service, and the employees can take the holidays by the half-day.
Accumulation of Holidays
Paid holidays not taken in a given year can be carried over and used in the following year, or accumulated.
Seasonal Holidays (Three<3> special paid holidays annually)
Employees can add these days to their regular seven (7) paid holidays to take ten (10) consecutive days off in any season, not only for summer. They can also split these holidays into two separate vacations of five days each.
Anniversary holidays
Employees are encouraged to use their regular paid holidays as anniversary holidays for occasions such as their own or family members' birthdays or their wedding anniversaries.
Refresh holidays
Employees who reach ten (10), twenty (20) and thirty (30) years of continuous service are granted five consecutive special paid holidays to refresh their mind and body. They can add these to their ten regular paid holidays to take fifteen consecutive days off.
Vorunteer special paid leave
Employees are granted five paid (5) leaves annually for volunteer activities to assist in restoring disaster-hit areas damaged by natural disasters and the like.
The anniversary of the foundation (one<1> paid holiday)
January 17th
May Day (one<1> paid holiday)
May 1st
Encouragement day of taking paid holiday
All employees are encouraged to take their paid holidays. In 2017, we have three encouragement days. (In January, May and November)
Leave of absence programs for taking along spouse
In case empoyees accompany their spouses,who are also employees and assigned to distant areas (domestic or overseas), they are granted at maximum three (3) years' leave of absence
Reemployment support system
Those, who left the company due to the reasons such as a child care, nursing care ,and accompanying their spouses' assignment (domestic or overseas), can receive support for their reemployment.
Telecommuting system
Employees, who are difficult to commute for a childcare, nursing care, or other reasons, are granted one (1) day a week to telecommute.
Leaves before and after childbirth
Employees, who give birh, are granted special leaves during the period from six (6) weeks* before the expected delivery day and eight (8) weeks after the delivery.* (In case of a multiple birth, fourteen (14) weeks are applied instead of six (6) weeks. )
Child-care leave
Employees, either male or female, can take child-care leaves until their children reach one (1) year and a half.
Shorter working hours
Regular working hours can be reduced by at maximum one (1) hour and a half a day until their children finish the six (6) th grader.
Nursing holidays for children
In addition to the regular paid leaves, to nurse their children, employees are granted five (5) leaves for a child (ten<10> days if they have more than two<2> children), until the children enrolls in elementary schools.
Nursing care leave (on a long peiod basis)
Employees are granted a leave of absence from duty of one (1) year in total per a person to be cared.
Nursing care leave (on a short period basis )
In addition to the regular paid leaves, to care their family members, employees are granted five (5) leaves for a care receiver (ten<10> days if they have more than two<2> care receivers).
Shorter working hours
Regular working hours can be reduced by at maximum one (1) hour and a half a day.
Changing the regular working hours and Setting lights-out at 8:00 p.m.
To achieve creative work execution, sound and healthy life-style, regular working hours are set from 8:00 to 16:36, and lights-out at 8:00 p.m. every night.
Prohibition of Working after 10:00 p.m. and on Sundays
To promote the overall health management of employees, working after 10:00 p.m. and on Sundays are prohibited in principle.
SAFETY FIRST CRISIS MANAGEMENT SUPPORT TO PREPARE FOR ALL EMERGENCIES


Business Continuity Plan / Disaster prevention
In 2015, the Chiyoda Group formulated a Business Continuity Plan (BCP). Covering all kinds of disasters, including fi res and large earthquakes, disaster prevention practice and BCP training are conducted with the basic principle of" life comes first."
In 2016, we practiced fi re drills from buildings and dealing with disrupted transportation networks to help people return home safely in the event of a large earthquake. While Chiyoda Global Headquarters continued its BCP training from last year, training has expanded on a larger scale to the Koyasu Office & Research Park and the corporate Group this year. In addition, the "Nighttime/Holiday Initial Response Training" outlines the procedures necessary for the smooth resumption and execution of business after a major crisis. In addition to verifying the safety of employees, we also strive to ensure the safety of their families. In the event of a disaster, employees' family members will receive e-mails to confirm their safety if they are registered on the relevant system.
Further, our Group company Arrowhead International makes all the arrangements for our employees' business trips. Providing adequate support that puts safety first for the various risks that may occur between departure and return, the Arrowhead Travel Risk Management System (A-TRIMS) provides safer and more reliable crisis management. This system verifies the itineraries of those traveling overseas and ensures their safety by thoroughly checking through e-mail and mobile phone. The Group as a whole supports stronger crisis management and puts the safety of employees first.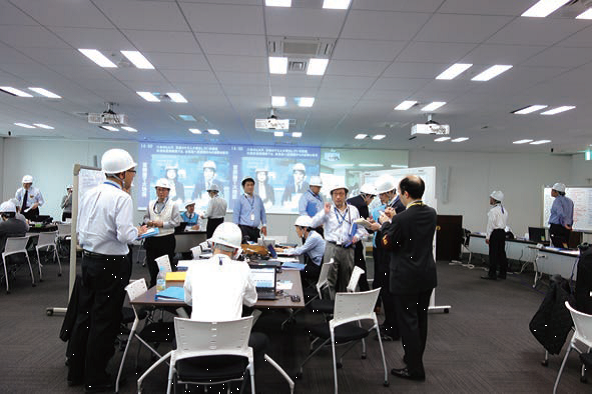 Crisis management activity at the field office in Yanbu, Kingdom of Saudi Arabia
At the construction site of a sponge titanium plant that was mechanically completed in May 2017 with Non LTI for Advanced Metal Industries Cluster and Toho Titanium Metal Company Limited, we worked with the client to implement various crisis management measures in terms of both hardware and software to ensure the safety of the client and field office staff from around the world.
As part of this activity, we conducted evacuation drills several times to ensure prompt evacuation and confirm the effectiveness of the Emergency Plan and Emergency Response System.
Practical training was carried out while the difficulty level was continuously raised according to the progress of construction and the number of field office staff.