The Chiyoda Group's Corporate Social Responsibility (CSR)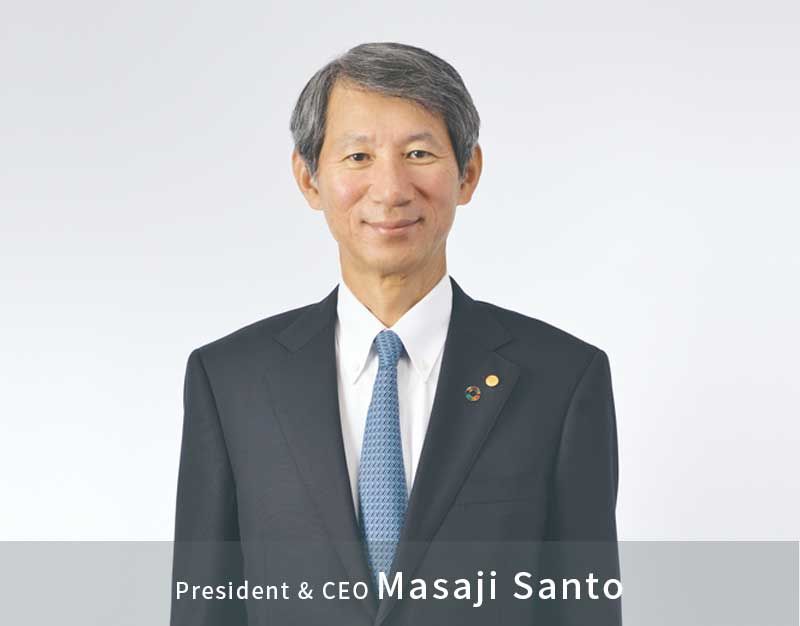 Corporate philosophy
Enhance our business in aiming for harmony between energy and the environment and contribute to the sustainable development of a society as an integrated engineering company through the use of our collective wisdom and painstakingly developed technology.
The Chiyoda Group's Backgrounds as a Social Entity
Ever since the Chiyoda Group was founded in 1948, we have been contributing to society with engineering that makes use of technology we have kept refining. From then up to today, when we celebrate the 70th anniversary of our founding, we have been making contributions to the growth of Japan's energy and chemical industries by means of plant construction. We have also taken measures for the global environment by developing and commercializing technology for plants to prevent air pollution, treat wastewater, and so on. We have made every effort to provide the optimal infrastructure to meet the requirements of every era and region, and to contribute to the growth of society with our technology and human capital*1.
The Chiyoda Group's Corporate Social Responsibility (CSR)
Arising from the backgrounds, the Chiyoda Group is pursuing business under the declared Corporate Philosophy of 'harmony between energy and the environment.'
We have made a commitment to the 10 principles of the UN Global Compact*2 that we joined in 2012, and complied with the imperatives to assure safety, protect the environment, correct disparities, respect human rights, prevent corruption, as well as contribute to local communities, and so on in our business activities. In the course of our business, we have devoted ourselves to grasping just what is required by the times and our stakeholders, and using engineering as our tool to create value, we have worked toward the sustainable development of society.
The Sustainable Development Goals (SDGs*3) adopted by the United Nations in 2015 and the Paris Agreement represent shared global goals, and corporations are also being strongly called on to take measures through their business to resolve global issues. In addition to taking initiatives that form the foundation for CSR, the Chiyoda Group will work toward realization of a carbon-free society that achieves a balance between climate change countermeasures and economic growth, fulfilling the mission of an engineering company to bring about the resolution of social issues by means of technology and human capital, and continue aiming to improve corporate value.
To Achieve Our Ultimate Goal, 'a Reliable Company'
As our corporate activities have been increasingly global, we are dedicated to developing the circumstance in which not only employees but also all the other stakeholders such as customers, business partners and local communities can participate and play an active role, regardless of their gender, nationality, age or religion in a spirit of respecting human rights, above all.
The Group has also introduced the Chief Officer System starting in FY2018, and has appointed a Chief Human Resources Officer (CHRO), a Chief Compliance Officer (CCO), and a Chief Sustainability Officer (CSO). With the above activities further integrated into our business management, and with the medium-term management plan we announced in FY2017 in the name of 'Mirai Engineering – A Grand Opportunity for the Future,' the entire Group will act together for responding to diversifying energy demand together with sustainable global environment and society. As a global leading company, we will contribute to the achievement of a sustainable society by means of engineering.

President and CEO Masaji Santo
September 2018


1: In the Chiyoda Group, human resources are a valuable asset and are referred to by the term 'human capital'.
2: UN Global Compact was announced by then UN Secretary-General Kofi Annan in an address to the World Economic Forum held in 1999. It is a principle-based framework for businesses, stating ten principles in the areas of human rights, labor, the environment and anti-corruption. Chiyoda has signed up in UN Global Compact in 2012.
3:SDGs are a set of global goals to be achieved by 2030, adopted at the UN Sustainable Development Summit in September 2015. They are common goals for the international community, consisting of 17 goals and 169 targets, for both developed and developing countries to tackle to eradicate poverty and realize a sustainable world