Chiyoda Corporation became Japan's first engineering and construction company to acquire ISO14001 certification for environmental management in March 2001, and strives to upgrade the Corporate SQE Policy and management system it has instituted while conducting systematic environmental education and awareness activities.
Environmental Management System (EMS)
At Chiyoda Corporation, the SQEI Management Committee, which is part of the Management Committee, is responsible for decisions on environmental activities. This committee establishes Corporate SQE Policy and periodically reviews the Company's activities. In addition, the Company has established committees under the direct control of top management to promote occupational safety, health and environmental (HSE) activities. Lower-level committees at each operating base promote independent initiatives in the categories of office activities, R&D activities and EPC* activities.
Moreover, to counter global warming, the Company has established the Global Warming Countermeasures Working Group, which is under the Management Committee and comprises the general managers or the section managers of the related Departments commencing with the Corporate Services Department. The working group's initiatives to reduce office greenhouse gas emissions include formulating countermeasure plans and auditing the status of plan implementation.

*: Engineering, procurement and construction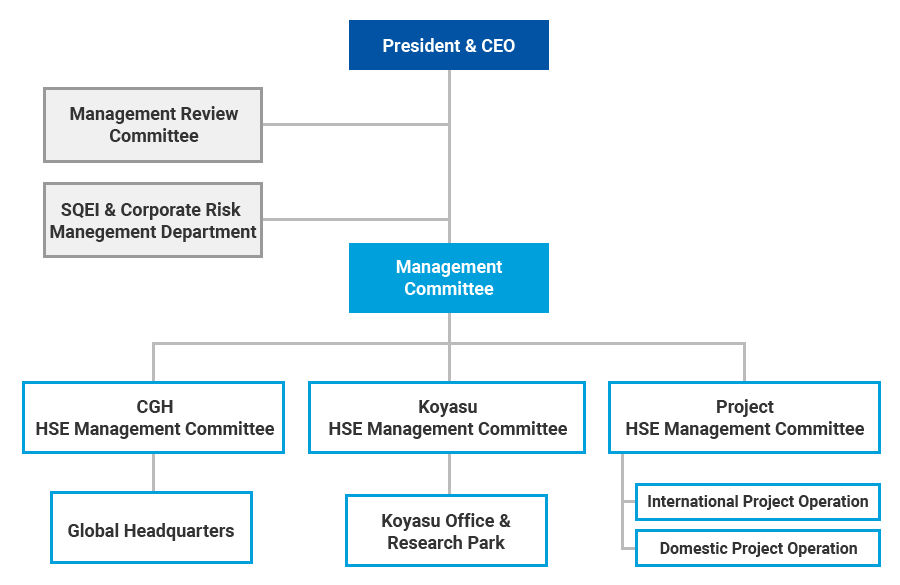 In March 2001, Chiyoda Corporation became the first engineering and construction company in Japan to acquire ISO14001 certification. In March 2005, the scope of certification was expanded to include activities at the Research & Development Center .
We underwent our fourth renewal inspection in November and December 2012, and with the addition of overseas project EPC operations to the scope of certification in February 2013 ISO certification now covers the management organization shown above figure. *
ISO14001 has been revised in 2015 and Chiyoda Corporation reflects ISO14001:2015 and to acquires ISO14001 renewal certification.
* The SQEI management system shall be applied to Global Headquarter (CGH), Koyasu Office & Research Park and all the site offices that perform the operations of Chiyoda business.
Chiyoda Corporation implements environmental training and aquire the special qualifications as the following.
Specialist training:
9 (nine) workshops for acquiring specialized EMS knowledge were held in the fiscal year ended March 2018, with topics including introductory and advanced health, safety and environmental management and environmental laws especially for waste management. In addition, pre-assignment supervisor consultation were provided for all site managers.
Special training:
Training for acquiring specialized knowledge of operations that could potentially have a large environmental impact. Total of 83 supervisors have been qualified as Specially Controlled Industrial Waste Manager qualifications until the end of March 2018.
General environmental training:
General information about the environment and biodiversity is disclosed on the Company intranet for employees to learn about at their own convenience.


Chiyoda Corporation conduct annual internal audits for environmental activities to ensure they are being carried out properly. From the fiscal year ended March 2014, we have been carried out simultaneous, combined SQEI audits of occupational health and safety (S), quality (Q) and environmental aspects (E) and information security (IS). We carried out the audits in writing for self-check and the internal audits by interview. All departments and locations undergo the audits in writing every year and are audited by interview every three years.
The audits also include the response taken to the issues raised by a third-party inspection organization.
In FY2017, Chiyoda Corporation did not received any punishments and penalty on environmental issues.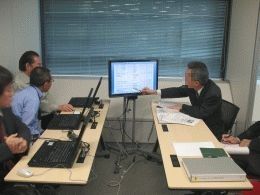 Environmental Activity Categories
Chiyoda Corporation's main operations are in the engineering, procurement and construction (EPC) of plants/facilities, project management with the related support services and research and development. We categorize these operations into EPC, Office and R&D activities, as shown in the figure below, which also correspond to our environmental activity categories.
Chiyoda Corporation have set environmental or HSE objectives for the three areas of EPC, office and R&D. In addition, in Japan and overseas we contribute to the environment through our core business and monitor environmental impact at construction sites and offices while energetically undertaking environmental activities such as promoting recycling and green procurement.
Chiyoda Corporation establishes annual environmental objectives(HSE objectives) for each of its specialized engineering and procurement departments based on the environmental objectives shown below. Self-evaluations of performance at the end of the first half and the full fiscal year are applied to the following fiscal year's activities.
<EPC Activities toward Environmental Objectives(HSE Objectives) in FY2018>
Objective 1 -- Provide Suggestions to Better Environmental Aspects Throughout the Life Cycle of the Project
In FY2017 Chiyoda Corporation made total 299 environmental proposals in Japan and overseas, which supported reduction of environmental impact.
In FY2018 Chiyoda Corporation plans to provide more effective proposals in terms of plant life-cycle as well as reduction of environmental effects.
Objective 2 -- Reduce the Amount of Industrial Waste and Adhere to Segregating Requirements
Chiyoda Corporation has been reducing industrial waste discharged from construction sites, and we constantly have been reusing or recycling approximately 90% of the waste. This is well explained with reasons that a high volume of insulation waste, debris and other hard-to-recycle waste such as glass and ceramics was emitted due to demolition of existing plant facilities in addition to the incineration or landfill disposal of a large quantity of plastic waste in outlying regions.
Material flow in business activities for the fiscal year ended March 2017 is shown below.
The Chiyoda Group We contribute to society through our business activities in Japan and overseas. In addition, we monitor major environmental data at domestic and overseas construction sites and offices, and actively promote environmental activities, such as recycling and green procurement.

Status of Construction By -Product Disposal at Construction Sites in Japan

Composition of Construction Waste by Fiscal Year

States of Recycling vs. Other Disposal Methods for Construction Waste (Excluding Sludge)

Recycling rates for Three Items Subject to the Construction Material Recycling Act