Compliance Program, System

Recognizing importance of observing compliance, and utilizing training programs and manuals, we raise consciousness and knowledge of compliance. In addition, we recognize and evaluate the compliance risk that our group is exposed (Plan), implement concrete preventive measures for enforcement against the main risks (Do), and we review, measure the results by monitoring (Check), and improve them (Action).
As stated above, we are practicing PDCA cycle regularly, and cope with a compliance risk appropriately.
These systems are called "Compliance Program". Chiyoda Group's structure of the compliance program is as follows;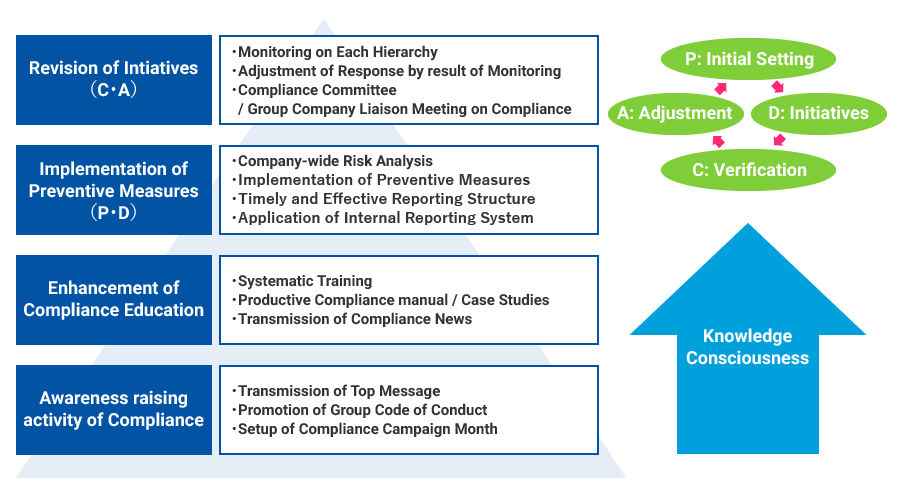 We have established the Compliance Committee which is directly managed by the Executive Committee, with the purpose of raising awareness and reinforcing promotion systems for compliance with a focus on global measures, including the prevention of anti-corruption practices.
We have also established the Group Company Liaison Meeting on Compliance with the purpose of enhancing a compliance system for the entire Group.
Also, we have assigned Compliance Managers who shall be responsible for the compliance activities in each division, group companies and project teams.
Continuous Compliance Training
We have continuously conducted the training programs such as New employees training and mid-career recruits training in terms of their careers or positions, and Pre-assignment training for site managers of field offices in terms of their job assignments. With the increase in global compliance risks, such as bribery for foreign government officials, human rights issues and the like, employees taking up new overseas assignments are given pre-assignment training with an emphasis on the risks associated with overseas assignments. Further, we have conducted the activities to raise awareness of the Chiyoda Group's Code of Conduct and relevant compliance rules among such members as in our overseas group companies and joint venture partners.
Intensive Compliance Campaign Month
Every year, a month during October and December has been designated as Intensive Compliance Campaign Month since October 2008. During the period, we have conducted compliance educations such as seminars by outside professional instructors and online courses by e-learning for all the employees including our group companies.

In 2016, we conducted the seminars on Harassment, and e-learning on Compliance both in English and Japanese.
You can scroll horizontally to see it.
Classification
Title
Contents (Time, Number, etc.,)

Hierarchical

Training

New employee

1 time / 105 employees

Mid-career hire

2 times

/

9 employees

Executive, associate executive

2 times

/ 53

employees

Functional

Training

Overseas assignment

Each time

/

217 employees

Site managers of field offices

Each time

/

26 employees

Lecture

"Harassment"

3 time / 717 employees

e-learning

e-learning

Japanese: 2,724 employees

English: 117 employees

Brief

Compliance Brief

2 times
The Chiyoda Group conduct "Risk Assessment" every fiscal year in order to identify the risks which we have to deal with preferentially. We select such risks by plotting all risks according to the frequency of occurrence, the degrees of damages and present measures. We implement the countermeasures specific to such risks.
Implementation of Preventive Measures (Control Activities)

The Chiyoda Group implement the following preventive measures / procedures , among other things, particularly for high risk items: ・Due Diligence relating to compliance on business partners of our supply chain including vendors, subcontractors, agents, consultants prior to forming the tie-up ・ Prior approval or confirmation procedures for foreign governmental officials, OFAC, biddings for public works, payments for entertainment fees, etc.
As part of our mechanism for ensuring compliance of Chiyoda Group Code of Conduct, we have also implemented monitoring periodically, and made improvements if required. The monitoring includes "the Construction Industry Law", "the Act against Delay in Payment of Subcontract Proceeds, etc. to Subcontractors", "Unfair Competition Act" (to prevent bribes to foreign officials), and "the Anti-Trust Law" (to prevent bid rigging), etc.
All divisions in CGH and group companies conduct "self-assessment", and they monitor their activities as for Compliance themselves.
The Compliance Unit in charge of promoting compliance monitor the compliance activities in Chiyoda Group including all divisions and group activities and review the compliance program for the next fiscal year.
Besides the Compliance Unit, the Internal Audit Unit as an independent organization also conducts auditing activities.