The Chiyoda Group pledges to continue as an enterprise that optimizes the use of the cutting-edge technology and human resources to create value for society. We have been pursuing business according to our declared Corporate Philosophy of "harmony between energy and the environment" and with our CSR Values as our shared values. In order to respond to the requirements of global markets and communities, we aim to be a global top-tier provider of comprehensive engineering services in both energy and environmental fields by implementing our Medium-term management plan "Mirai Engineering - A Grand Opportunity for the Future".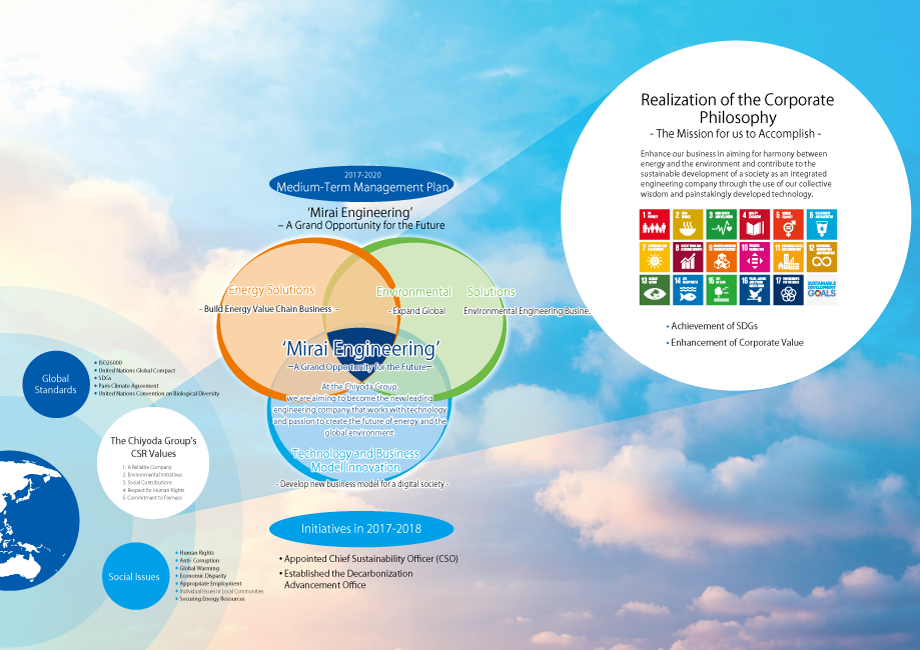 What are the SDGs (Sustainable Development Goals) ?
These are goals that need to be realized by the year 2030 in order to achieve a sustainable development of society. They consist of 17 major goals and 169 targets that were adopted by the United Nations General Assembly in September 2015 to provide a basic framework for action in the international community of both developing and developed countries.
As a member of the community, the Chiyoda Group is responding to this movement by engaging in actions intended to contribute to the achievement of the goals.
In this report, we are reconfirming our own corporate activities and displaying icons for the relevant goals side by side with such activities.