Global Operation System and Technology Transfer
Paku Gajah Gas Development Project Completed






A consortium we formed with two of our Group companies in Indonesia, PT. Suluh Ardhi Engineering (SAE) and PT. Chiyoda International Indonesia (CII), was awarded a gas processing project contract for the Indonesian state-operated PT. Pertamina EP. The project was brought to completion on a local production for local consumption basis in FY2017.
This is an important domestic project for Indonesia that involves construction of gas processing facilities in the two districts of Paku Gajah and Kuang in southern Sumatra, together with a pipeline connecting them.
SAE acted as the leader and built a system of operation that was under the control of local engineers and also engaged a female engineer from Chiyoda Global Headquarters (CGH). The various types of project methods being used by CGH as well as material procurement, advanced pulsation analysis, and so on were implemented with local operators. In addition, SAE brought in design management and coordination methods using 3D models, which SAE had no experience with, and this enabled it to shorten the construction period.
This project was also very effective in transferring technology to local users, and it made a contribution to building the group companies' technological base. In addition, a joint team was formed with local members to take part in the Jakarta 'Kizuna' (Bond) Ekiden road relay that is held to foster friendship between Japan and Indonesia. This kind of team building activity was one major reason why we were able to implement Group operations, in all their diversity, so smoothly.
We will join as one with our group companies in the future and work together again on supplying energy to Indonesia.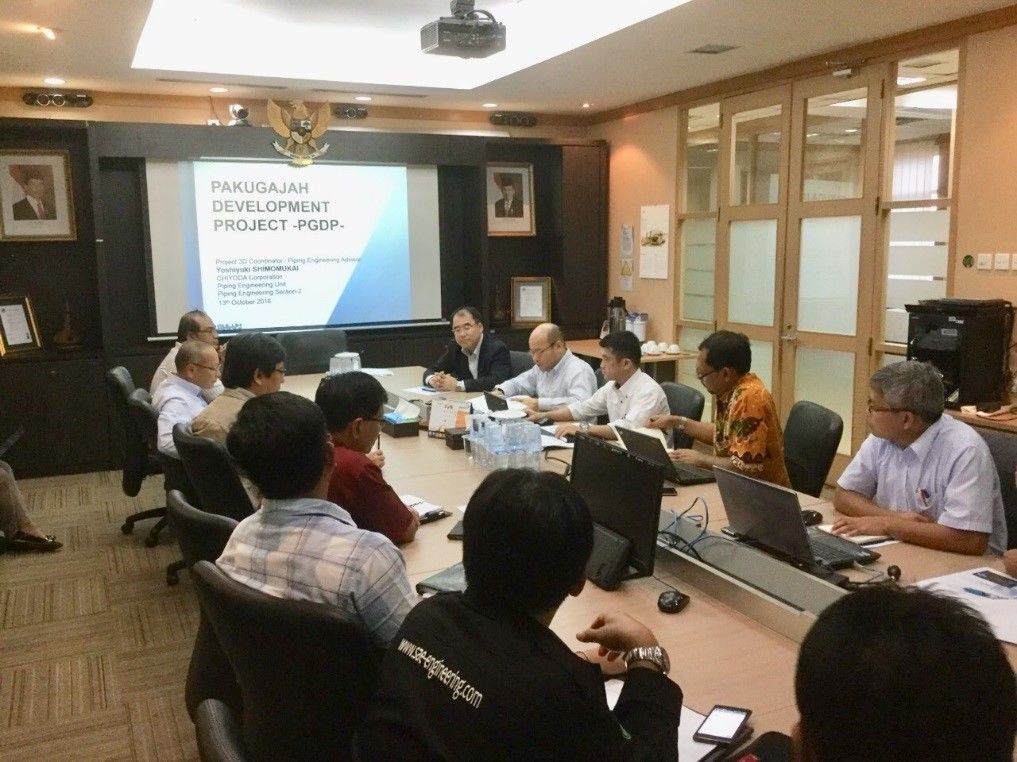 Employee's Voice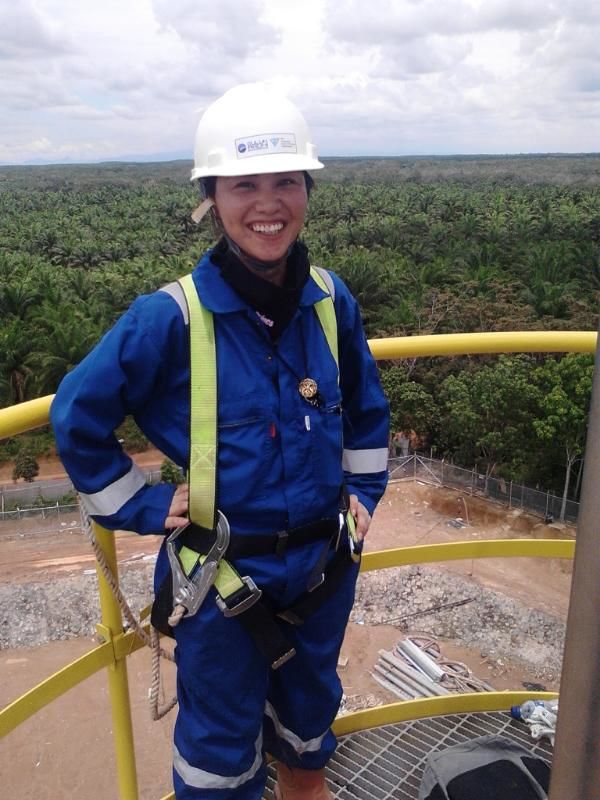 For this project I served concurrently as Deputy Project Manager and Deputy Engineering Manager, so I was in charge of things from design to onsite construction. This was my first time to participate in a project as the PKP*, and I was able to acquire a great deal of valuable experience from being assigned to positions of responsibility.
My work on this project renewed my sense that men and women have the strengths of their respective individual characteristics, and that using those to an advantage contributed to the success of this project, which drew heightened awareness of local initiative.
There still are not very many female engineers, but I will be happy if this project helps to increase appointments of women as PKP.
* Abbreviation for project key person, the main position on a project team
Initiatives to Promote Safety Culture
Using Virtual Reality for Experiential Knowledge of Risks and Danger




Safety is a core value for Chiyoda. We act safely not only for our own good, but also because it leads to safety for our colleagues who work with us and further for all the members of our families, as well. Chiyoda has sought to reduce the unsafe actions and unsafe situations that can cause accidents, and in FY2017 we introduced experiential risk training that uses virtual reality (VR) to heighten employee awareness of safety.
This experiential training is being conducted for all our employees so that they can be safety conscious not only on the worksite and in the office, but in various situations of everyday work and living. In FY2017, we had approximately 260 participants including members of corporate management. For FY2018, we are also considering dispatching personnel with the equipment to worksites in Japan and overseas to conduct the training there.
We intend to reach out to further expanded audiences in future. We will be working with Chiyoda Group employees, customers, and business partners so that people on worksites and in offices can join in measures to promote safety culture and contribute to achieving no accident and no disaster.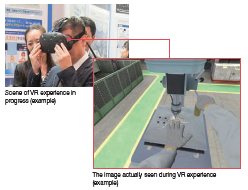 Promotion of Diversity




The Chiyoda Group have been proactively continuing every effort to create a corporate culture and working environment where the diversity, individuality and characters of employees are respected and employees are motivated to vividly work irrespective of sex, nationality age, religion, etc. This is based on our belief that a variety of perspectives gained through promoting the diversity will increase the organization's strength of being flexible and coping with various situations.
Promote Female Advancement
As a part of those promotion of diversity, to ensure further optimization of the Group's activity, the Group established practical plan named "activity plan to promote of female advancement" following set up the law of promotion of female advancement.
With the aim of increasing the proportion of females ratio for employment of new graduates to be more than 25% by 2020, in addition to the creation of places for female employees who will be the next generation in various occupational environments due to changes in times and changes in society We will promote internal reform to maximize the ability of people.
We will widen the door to women widely, and we will build an environment where female employees working there will continue to work long regardless of various environmental changes.
Activity of a Task Team aimed at Changing the Employee's Mentality
Chiyoda Group highly respects the diversity and individuality of employees and their personalities. We are making efforts to create a supportive environment, provide assistance and change the employees' mentality to help them make the most of their potential in the workplace regardless of gender, nationality, age or religion.
As part of the efforts to promote diversity, Chiyoda is engaged in two major activities. One of them is a task team aimed at changing the employees' mentality about female participation in the workplace. The task team, formed in 2014, gathers and exchanges information and organizes lectures by outside lecturers. The team is seeking to build a corporate culture and a system that enable women to fulfill their potential without depending much on their own efforts, supervisors' decisions, the working environment or the atmosphere. The team provides not only female but also male employees with a chance to review their ways of working in the light of development and advancement of women in the workplace.
Women's Empowerment Principles (WEPs)
We participate in the Women's Empowerment Principles (WEPs) subcommittee sponsored by Global Compact Network Japan, set a theme based on "Women's Empowerment Principles" and discuss with the participating companies. We are promoting diversity efforts as a company, including feedback of contents discussed at the subcommittee as materials for internal education.