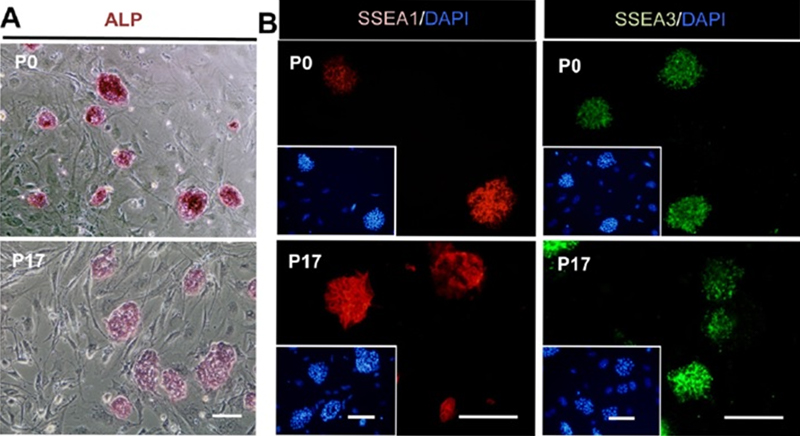 Undifferentiated state of induced pluripotent stem cells after long-term culture using automated cell culture device.
(A) Alkaline phosphatase activity of iPS cells at 0 and 17 passages. Scale: 100 μm.
(B) Immunostaining of the pluripotency markers SSEA-1 and SSEA-3
in iPS cells at 0 and 17 passages. Scale: 100 μm.

Realizing the Potential of the Next Medical Breakthrough
Regenerative medicine is a new therapy where tissues or cells are prepared in-vitro to replace tissues or organs impaired by illness or disorders. Greater recovery is made possible through this technique. Advancements can lead to new treatment options for various incurable diseases in the near future.
In order to get regenerative medicine to work for everyone, it is necessary to understand the process of cells and tissues and provide the process to hospitals on a feasible industrial scale. To administer and treat patients with regenerative medicine therapy in a safe and reliable way, further advancements need to be achieved. This is where Chiyoda comes in, as basic research and development are still being conducted to transfer treatment from the research lab to the operating room.
Chiyoda is working to create the enterprise for regerative medicine, Cellular, Tissue, and Gene Therapies.
Activating Activin: the Secret to Regenerative Medicne
As a child, many may have seen the illustrations of cell division, usually showing a fertilized frog or newt egg gradually dividing. That simply depicts Developmental Biology, where a living thing takes shape through the cumulative process of various structural elements.
Honorary Professor at Tokyo University Makoto Asashima, a groundbreaker in Developmental Biology, succeeded in recognizing that activin was an important protein controlling an embryo's development up to the heart and liver. Dr. Asashima shed light on the system of how activin works.
Japan Aerospace Exploration Agency and Asashima have been doing research in elucidating how activin works for the process of cell differentiation in zero gravity since the 1990s. Chiyoda Corporation has worked closely with them on this research. The purpose is to apply a technological method to cell cultures in a laboratory and develop a system of realistically automated cell cultures.
Experimenting in outer space were conducted in 2009. From these experiments, Chiyoda helped the field advance as great progress in regenerative medicine was made.
Xenopus laevis kidney-derived cells (A6 cells) form dome-shaped structure cultured under the microgravity condition. (photo by Dr. Yuzuru Ito, the National Institute of Advanced Industrial Science and Technology)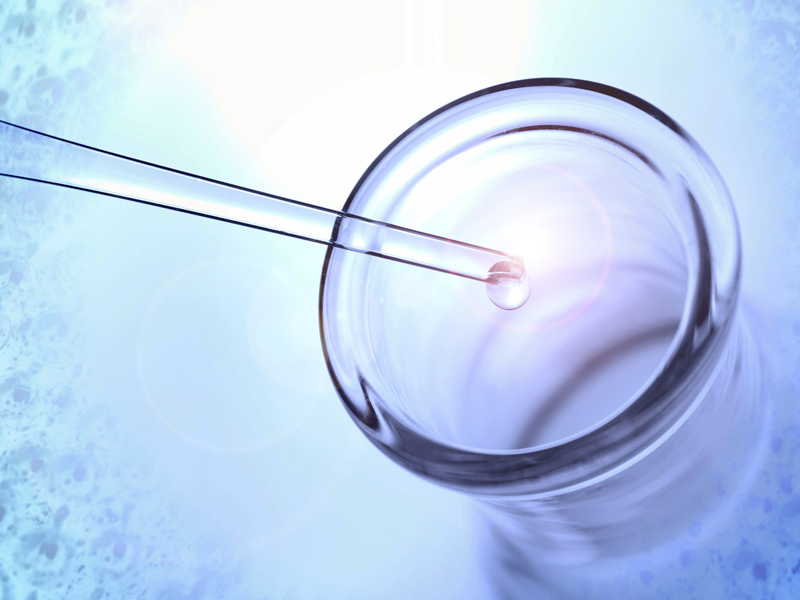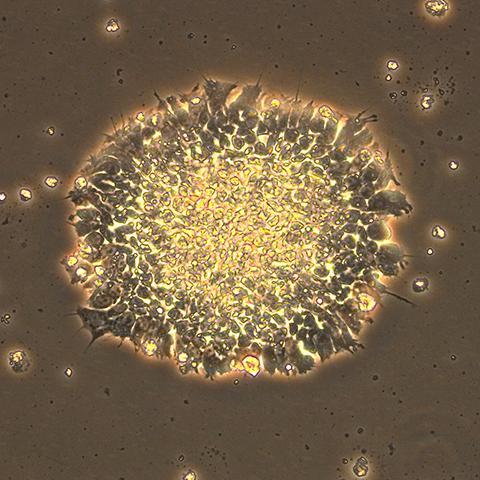 Human iPS cells cultured in our laboratory at Koyasu office/research park.
A Breakthrough in the Field of Regenerative Medicine
The application of iPS cells for regenerative medicine is expected to revolutionize therapies. Thanks to the discovery of iPS cells in 2006 by Prof. Shinya Yamanaka (The head of the Kyoto iPS Cells Research Institute). He, along with Dr. John B. Gurdon, won the Nobel Prize in Physiology or Medicine in 2012 for the discovery. These iPS cells are considered promising in their application to the individually specific production of cells for therapeutic reasons.
Now in Japan, a total industry-university cooperation has been established to research, develop, and commercialize a technique for applying iPS cells to regenerative medicine. At the same time, there remains a number of problems such as the safe mass production or buildup of distribution methods because.
We are working to develop the technology in culturing and preparing those cells and tissues necessary to manipulate and engineer cells for use in patients. Such technique comes from the zero gravity projects of the 2000s. Chiyoda is also applying its knowledge and information about the safety of medical care and pharmaceuticals learned from the development of pharmaceutical engineering.
It is obvious that Chiyoda cannot accomplish the realization of regenerative medicine alone. It is only conceivable to realize this new therapy by cooperating with a number of organizations and joining forces to balance each other's strengths. Our aim is to solve the technical hurdles and work towards realizing real regenerative medicine for patients in need as soon as possible. This can only be done by applying the engineering from the outer space projects and plant constructions.