Engineering Achievements in the Space and Life Science Fields
Since the 1990s, Chiyoda has developed a number of devices to support experiments on the International Space Station. In the field of Life Sciences, Chiyoda has established its own laboratory for biological experiments, and has accumulated expertise necessary for operational support.
In particular, our experience in cell culture has enabled us to design manufacturing processes for biopharmaceuticals, pharmaceuticals, and cell-based products with clients, consequently completing the construction of these manufacturing facilities in Japan. With these experiences, we are accelerating our support service for research and development in the Life Science fields.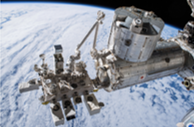 Achievements on the International Space Station
Cell culture experimental unit
Plant growth experimental unit
Photocatalyst generation experimental kit
Refrigerator and freezer for experiments
Wireless monitoring system for the onboard environment
Fluorescence microscopic observation system
Aquatic organism experimental kit
Confocal microscopic system
Small animal luminescence measurement system
Research and Development Support Service in the field of medicines with various modalities.
Chiyoda focuses on collaboration with academia, so that we can support research and development on various modalities from basic to translational research. As a part of this effort, we are conducting a collaboration research project with the University of Tsukuba, and have been building a system that provides comprehensive support from the development of basic technology to its implementation in society.
Chiyoda can apply our deep experience from the R&D and Engineering fields to develop your projects to success, with flexibly complying with your requests.
Available Technical Themes
Drug development strategy planning,
Evaluation system, establishment of cell culturing process, facility engineering, Introducing AI/DX
Technical advice for marketing of your product
Our team members, experienced in the development and sales of products, would provide advice on any challenges you may have with your developing/developed product.
Planning of optimal assay system
We would plan an assay system for data acquisition which would be optimal for your requirements, market needs, and characteristics of your product.
Support for Manufacturing Technology Development
Development of continuous manufacturing technology for small molecule drugs
Manufacturing process development
Production technology development (Scale-up)
Recently, the environment surrounding APIs and intermediates for pharmaceuticals has been changing drastically. In such an environment, introduction of continuous manufacturing technology is highly expected from the viewpoint of shortening the development period of manufacturing methods in the drug development stage, improving efficiency by saving space, and assuring quality.
Chiyoda has been developing continuous manufacturing technology for small molecule drug based on the technological capabilities it has cultivated as an engineering company, and has newly established and participated in the CDMO company applying these technologies with a pharmaceutical company, general contractors, and others. Furthermore, we will continue to provide support for pharmaceutical development in a wide range of phases by utilizing our knowledge and experience.
Developing manufacturing technology for continuous production of small molecule drugs
Manufacturing process development for regenerative and cellular medicines
Chiyoda's technical consultation service from scratch to launch.
Chiyoda would serve as valuable partner on new modalities including regenerative/cellular medicines, providing seamless support from the R&D phase to the commercial manufacturing phase.
General drug development has become a horizontal specialization among multiple players such as academia/venture companies, pharmaceutical companies, CRO, CDMO and CMO. In this context, we would provide seamless support at each phase from R&D to manufacture, so that you can bring your product into the market as soon as possible. For large-scale manufacture, we can provide integrated support from the master planning to design and construction based on our experiences delivering pharmaceutical plants domestically EPC(Engineering, Procurement, Construction) over the past 60 years.
* Contract Research Organization
** Contract Development and Manufacturing Organization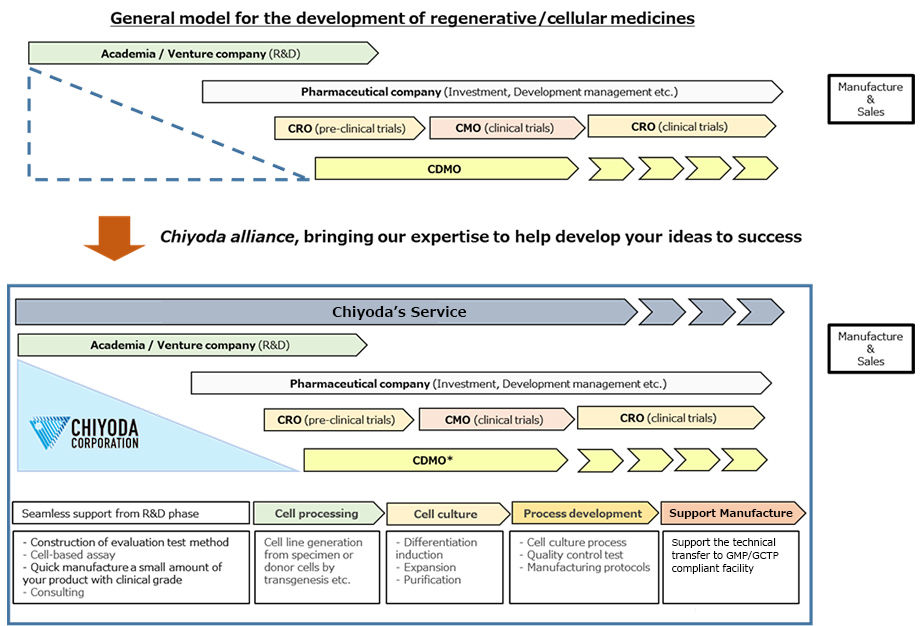 Chiyoda is developing various kinds of businesses in the Life Science field as a growth area for our future business portfolio.
Among them, we especially view new modalities including regenerative medicine as a high-priority field. We also provide support for the development and the manufacturing technology, as well as EPC for the manufacturing facilities. In the future, we are aiming to provide support for the manufacture of various kind of medicines, and to be a valuable partner that would accompany a client from the R&D phase to the commercial manufacturing phase.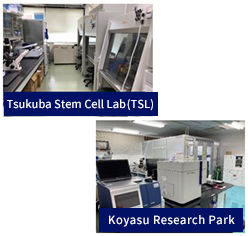 Support for the Development of Regenerative/Cellular Medicines
Chiyoda provides cell-based assay services using various types of cells at our laboratory at Koyasu Research Park and Tsukuba Stem Cell Lab (TSL), which we established in cooperation with the University of Tsukuba.
We could provide support from the R&D phase through pre-clinical/clinical trials to the commercial phase.
We also offer various consulting services in this field.
For details, please refer to the following page.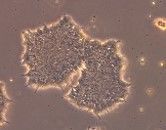 Support for Manufacturing Technology Development
Chiyoda can provide services for cell processing and manufacturing process development from the R&D phase while conducting comparability exercise, which could seamlessly connect to the manufacturing phase of your final product. This would enable you to reduce time and the costs of your product development.
For details, please refer to the following page.
Engineering and Construction of Manufacturing Facilities
In order to meet the needs of the regenerative medicine industry, Chiyoda has completed several key EPC projects.
Support for Regenerative/Cellular Medicines Manufacture
Chiyoda is now preparing to provide contract development and manufacturing support services that could seamlessly take your product from the development phase to manufacturing phase while conducting comparability exercise.
For details, please refer to the following page.
Chiyoda has various experiences of design and construction in antibody products and vaccine plants with large scale-up to 20m3 capacity and facilities using many SUBs (single-use bags).
In animal cell culture and purification, Chiyoda has various experiences of design and construction of facilities from using SUB (single-use bags) for clinical trials to 10m3 manufacturing capacity.
In addition, from culture of skin cells to design of cell culture system in space, Chiyoda has wide range of abundant knowledge in various fields.
Chiyoda has designed and constructed single-use fermenters from a few liters oscillated reactors up to 2,000 liters mixing vessels.
In vaccine preparation, Chiyoda has many design and construction experiences of stainless steel culture tanks (for insect cells) with more or less 20m3 capacity and large-sized cell culture vessels and also has extensive knowledge of sterilized cleaning for facilities.
Chiyoda would offer various O2/CO2 dynamic simulation (CFD) analysis and optimal facility design (configuration/size) using batch simulators.
Chiyoda Life Science Department has completed two large-sized projects: API for coronavirus infection (COVID-19) and antibody pharmaceuticals.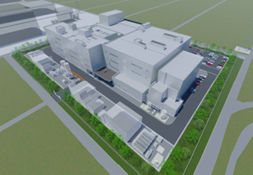 ① API Plant Construction Project for Coronavirus Infection (COVID-19)
The first train of the plant was completed and is in operation.
The second train of a manufacturing plant and its utilities facility was completed.
The project is an epoch-making API plant using insect cell and consists of the world's largest culture vessel. The project will cope with preparation of vaccine for 30 million persons.
②API Plant Construction Project for Anticancer Drug
The plant will be an epoch-making ADC (Antibody-Drug Conjugate) API plant.
This project will prove that scale-up study of an unprecedented large-sized animal cell culture vessel is appropriate.
Chiyoda would introduce a specific cyclic peptide API plant for PeptiStar Inc., which is the first manufacturing plant in Japan. The plant is a large-scale commercial production base for "special cyclic peptide API (middle molecule drugs)" with excellent characteristics as a new therapeutic agent.
Client
PeptiStar Inc.
Construction Site
Osaka Prefecture
Schedule
23 months from Design to Completion
Outline of Plant
Manufacturing Building No.1 : 3,116 m2
Manufacturing Building No.2 : 4,930m2
・Reactor for Peptide : 62
・Column Chromatography/Ion Chromatography : 8
・Freeze Dryer : 3 etc.
World's Largest Scale Special Cyclic Peptide API Plant
Scope of Work
Design, Scale-up Study, Construction, Commissioning, and Validation for New Manufacturing Buildings
The Achievement Award was awarded to the project by ENNA (Engineering Advancement Association of Japan) for the enhancement of engineering and the creation of a new field.
Peptide Drugs (Middle Molecule Drugs)
Small molecule drugs (molecular weight up to about 1,000) : The mainstream of pharmaceuticals. The development of these kinds of drugs are saturated. The more effective, the more adverse effect.
High molecule drugs (molecular weight more than 1,000, e.g. vaccine) : Manufactured by cell culture.
The development and manufacturing is costly and takes long time.
Middle molecule drugs (molecular weight more from 1,000, to 10,000) : Compensation for the demerits of the above drugs. High expectations and social demand promote a new type of pharmaceuticals.
Manufacturing peptide APIs requires repetition of synthesis and refining processes.
There is a possibility that peptide API enables to design specific amino acid sequence. ①Able to attack a therapeutic target (i.e. reducing an adverse effect) ②Possible to produce various and new pharmaceuticals with high efficiency
Experiment and test are easily done due to chemical synthesis of drug development.
300 liters filter reactor and freeze dryer with 500 liters condensing capacity for PeptiStar Inc. are world's largest specification capacity.
Introduction of a state-of-the-art technology and construction of aseptic facilities based on optimal layout
Multipurpose production line in accordance with CDMO need
To establish aseptic guarantee in high degree, various elemental technologies are required. For this purpose, an introduction of an isolator is essential and it is required to encompass association of HVAC, C/SIP guarantee in critical areas, a barrier to contamination of foreign materials in material handling, and operational easiness including all issues and suitable monitoring. Chiyoda would start by planning of optimal layout in a client's point of view and support up to a completion of a factory in order to materialize the client's concept with Chiyoda's consistent cooperation.
In recent years, there have been increased demands for multipurpose manufacturing lines being capable of manufacturing various sterile formulations in a same line for client's CDMO plan instead of a dedicated line for a specific pharmaceutical. Chiyoda would pursue to present satisfactory proposals to a client to meet safety design considering containing hazardous pharmaceuticals and construction plan of facilities with high flexibility introducing effective single-use technology for future products.
Most Advanced Containment Technology
Chemical Hazard and Biohazard Facility
Proposal of Satisfactory Facility and Equipment in accordance with Hazardous Level
In recent years, as an increase in developing highly active pharmaceuticals in high drug efficacy with small quantities, demands for facilities and equipment which respond to safe handling are increasing.
Chiyoda would provide suitable proposals for facilities and equipment in accordance with hazardous level as Chiyoda has plenty of experiences in designing and constructing chemical hazardous facilities to handle highly active compounds.
Chiyoda has constructed Japan's first biohazard facilities (P3, P4).
Up to now, Chiyoda has built chemical hazard and RI facilities and then can provide facilities in compliance with most advanced containment technologies.
Example of Biohazard Engineering
Customization of multiple and connecting lines with wrapping, arranging, putting in boxes, printing, inspecting, etc. for a client's convenience.
Proposal and realization of for automation of existing manual processes.
The filling and packaging processes are important processes to protect product quality.
Besides product quality, Chiyoda would make proposals that are integration of DX, IoT, and a proactive approach of using robotics technology to build lines that can be produced safely and efficiently by operators and maintenance persons based on the latest overseas and domestic trends.
In accordance with our client's request, Chiyoda would execute design, engineering, purchase, transport, installation, and adjustment of equipment, commissioning, and validation and then hand lines over to the client.
Logistics and Material Handling
Proposal for logistics system that has an important role in a factory
Proposal for excellent configuration of logistics system considering production facilities
Labor-saving proposal for processes which involve operators
Logistics and material handling are essential for the construction of pharmaceutical factories.
Logistics are important factors in every aspect of manufacturing fields such as manufacturing APIs, biopharmaceuticals, and various drugs and then Chiyoda would envisage efficient integration including labor-saving equipment in favor of the operation of workers and also fully automated equipment such as automatic warehouses, automated guided vehicles, vertical conveyors, etc., to realize factories with high production efficiency.
Pharmaceutical Laboratories
Abundant Know-hows based on many experiences
In 1966, Chiyoda designed the first practical vivarium facility in Japan.
Chiyoda would offer proposals for various compound laboratories and cutting-edge laboratories used know-hows based on many experiences
Examples of Pharmaceutical Laboratories
Heat and Fluid Dynamics Simulation (Computational Fluid Dynamics (CFD) Simulation)
Batch Simulation
Computational Fluid Dynamics (CFD) Simulation enables you to visualize and quantitatively understand complex flow patterns and profiles of temperature, concentration, etc. inside of the equipment and clean room that are not normally observed. CFD simulation can be widely applied to design and engineering in order to optimize design and improve reliability, for example, the arrangement with less stagnant air flow of air conditioner for a clean room, scale-up engineering for fermenters (mixing vessels). Simulation enables you to optimize the design and improve the reliability of the facility.
Computational Fluid Dynamics (CFD) simulation technology has been applied to various fields (e.g. design of plant and devices, and their developments). Chiyoda could combine diverse engineering technologies which Chiyoda has cherished for a long time and the most advanced CFD technology, hence could provide them to a client to create a new value for a client.
Chiyoda have many years of extensive experience in applying CFD technology to plant design, R&D, and plant diagnosis consulting. Therefore, it is possible for Chiyoda to provide not only analysis results but also comprehensive solutions from consultation on data collection methods to proposals for solutions and improvement measures.
Optimization Study of a Fermenter Geometry (e.g. L/D Ratio, Mixing Blade Design, and Sparger Design), and Operating Conditions (e.g. Aeration and Mixing)
Scale-up Study and Consulting for Fermenters
Equivalent Study as to Flow Dynamics in Mixing Vessels at Scale-up of their Vessel Capacities
Evaluation of Air Flow Pattern in Clean Rooms and Dispersion Study of Exhausted Air Flow from Buildings
Examination of Airflow Pattern in Vivariums
By means of a batch simulator, Chiyoda could achieve an optimal operation schedule which shows a time chart of each equipment's operation in accordance with operation details, operation periods, and required number of personnel supplied by a client.
By using the simulator in pharmaceutical process and related facilities, it is also possible to achieve design for favorable process and utilities facilities in consideration of the operation schedule.
Batch Simulation Image by Batch Simulator
MES (Manufacturing Execution System) Package "PAS-X"
"PAS-X" uses the accumulated knowledge and experience of the world's top pharmaceutical companies.
"PAS-X" - The world's leading product of Manufacturing Execution Systems (MES)
PAS-X enables users to harness the accumulated knowledge and experience of the world's top pharmaceutical companies and implement their best practices.
In addition to enhancing international competitiveness, PAS-X also fully supports the data integrity requirements of the MES domain.
Chiyoda is a Japanese agency of PAS-X, please refer to TIS Chiyoda Systems Inc.for details. (Sorry. Only link to Japanese page)
Pharmaceutical Manufacturing Plants in General (Biopharmaceutical, API, Preparation, Packaging, Investigational Drug, etc.)
Smart Validation Approach Reflecting Current Trends based on Chiyoda's Achievements and Experiences
Chiyoda has been one of the first runners in the field of engineering and construction pharmaceutical facilities to engage in validation since the early 1980s.
Based on our extensive achievements and experiences accumulated over many years, Chiyoda would provide high-quality validation services in a sophisticated fashion with client's satisfaction reflecting global trends of the industry, knowledge, and the concept of C&Q (Commissioning & Qualification) acquired from overseas partners.
Efficient Validation in alliance with Engineering Team
Validation would be carried out by reflecting latest trends and using know-how of utilization of vendor's documents and commissioning documents effectively by a close alliance with engineering team and validation team.
Efficient Computerized System Validation in accordance with kinds of Computer Systems
Chiyoda would achieve an efficient computerized system validation in accordance with importance of the system and its type of the system (stand-alone type or embedded type) by risk assessment of the computer system and validate the system against the requirement of Data Integrity (DI), which has become increasingly severe in recent years, and produce documentation of the validation results.
Supporting Services for FDA / EU Inspections and Professional Service Agreement with Jacobs Consultancy Inc.
Supporting Services for FDA / EU Inspections
Chiyoda would support pharmaceutical manufacturers who will have FDA/EMA inspection.
Chiyoda's services are as below:

Mock Audit/Consultation Service in Operation
Support for FDA Pre-meeting/Witnessing
Consulting Services for Audit
Support for Validation
Support for Audit
Professional Service Agreement with Jacobs Consultancy Inc.
Trends for essential requirements of manufacturing pharmaceuticals concerning GMP and the latest technologies are constantly changing.
Chiyoda has become a partner with Jacobs Consultancy Inc., which has many experiences on the construction of pharmaceutical production facilities, to obtain information about the latest GMP and their interpretations.
In addition to reflecting these latest information on facility designs and validation, Chiyoda would support FDA Pre-meetings and mock audits, accordingly.
E:Engineering P:Procurement C:Construction V:Validation Cn:Consulting
You can scroll horizontally to see more.
| NO. | Facility Type | Product | Audit Organization | Chiyoda' s Involvement |
| --- | --- | --- | --- | --- |
| 1 | Commercial Facilities | Bulk Pharmaceutical Chemical | FDA(CDER) | EPC |
| 2 | Commercial Facilities | Bulk Pharmaceutical Chemical | FDA(CDER) | EPCV |
| 3 | Commercial Facilities | Pharmaceutical Intermediate | FDA(CDER) | Cn (Audit Witness) |
| 4 | Commercial Facilities | Bulk Pharmaceutical Chemical | FDA(CDER) | Cn (Audit Witness) |
| 5 | Commercial Facilities | Bulk Pharmaceutical Chemical | FDA(CDER) | EPCV (Audit Witness) |
| 6 | Commercial Facilities | Bulk Pharmaceutical Chemical | FDA(CDER) | EPCV (Audit Witness) |
| 7 | Commercial Facilities | Solid Dosage | FDA(CDER)/EU(EMA) | Cn (Audit Witness) |
| 8 | Clinical Facilities | Solid Dosage | FDA(CDER)/EU(EMA) | V |
| 9 | Commercial Facilities | Injection | FDA(CDER)/EU(EMA) | EPCV |
| 10 | Commercial Facilities | Injection | FDA(CDER) | V |
| 11 | Commercial Facilities | Injection | FDA(CDER) | Cn |
| 12 | Commercial Facilities | Bulk Pharmaceutical Chemical | FDA(CDER) | Cn(Audit Witness) |
| 13 | Commercial Facilities | Solid Dosage | GLOBAL QA Dept. | EPCV |
| 14 | Commercial Facilities | Solid Dosage | GLOBAL QA Dept. | Cn(Audit Witness) |
| 15 | Commercial Facilities | Pharmaceutical Intermediate | FDA(CDER) | Cn(Audit Witness) |
| 16 | Commercial Facilities | Dosage | FDA(CDER) | V |
| 17 | Commercial Facilities | Dosage | FDA(CDER) | Cn(Audit Witness) |
| 18 | Commercial Facilities | Solid Dosage | FDA(CDER) | EPCV |
| 19 | Commercial Facilities | Solid Dosage | FDA(CDER) | Cn |
| 20 | Commercial Facilities | Dosage | GLOBAL QA Dept. | V |
| 21 | Commercial Facilities | Dosage | GLOBAL QA Dept. | Cn(Audit Witness) |
| 22 | Commercial Facilities | Dosage | FDA(CDER) | Cn(Audit Witness) |
| 23 | Commercial Facilities | Dosage | FDA(CDER) | Cn(Audit Witness) |
| 24 | Commercial Facilities | Pharmaceutical Intermediate | FDA(CDER) | Cn(Audit Witness) |
| 25 | Commercial Facilities | Solid Dosage | FDA(CDER) | Cn(Audit Witness) |
| 26 | Commercial Facilities | Solid Dosage | EU(EMA) | Cn(Audit Witness) |
| 27 | Commercial Facilities | Solid Dosage | FDA(CDER) | Cn |
| 28 | Commercial Facilities | Dosage | FDA(CDER) | Cn |
| 29 | Commercial Facilities | Medical Device | EU ISO Certification Body | V |
| 30 | Commercial Facilities | Medical Device | EU ISO Certification Body | Cn |
| 31 | Commercial Facilities | Bulk Pharmaceutical Chemical | FDA(CDER) | Cn |
| 32 | Commercial Facilities | Injection | GLOBAL QA Dept. | Cn |