The Chiyoda Group considers the mission of engineering company is to offer the solution of various social issues and create social value through its business activities.
For the realization of the above mission, we will aggressively work on and extend our business to the infrastructure development and the solution of food problems as well as plant engineering business, with additional values by integration of the cutting-edge technologies.
Integrating Hydrogen, AI, and Digital










Chiyoda exhibited in the Kawasaki International Eco-Tech Fair 2019 held in Kawasaki City, February 7-8, 2019. Featured at the Chiyoda booth were the SPERA Hydrogen®system that brings hydrogen on a large scale in liquid state at ambient temperature and pressure from overseas and the Plant Digital Twin* that promote "visualization" of plant operations and maintenance through the application of new data integration technology with 3D data platform. Mr. Ian Maidin, Charge d'Affaires ad interim at the Embassy of Brunei Darussalam and Mr. Norihiko Fukuda, Mayor of Kawasaki City visited Chiyoda's booth and attended at the presentation and discussion. It was not only an introduction to individual technologies, but also an exhibition that showed the goals and the whole sense of the future society including hydrogen integration of AI and digital. We will contribute to realizing a smart society with total system optimization capability an integrated engineering company provides.
*. A virtual digital plant coordinating and consolidating all operational and security data, centering on a 3D model.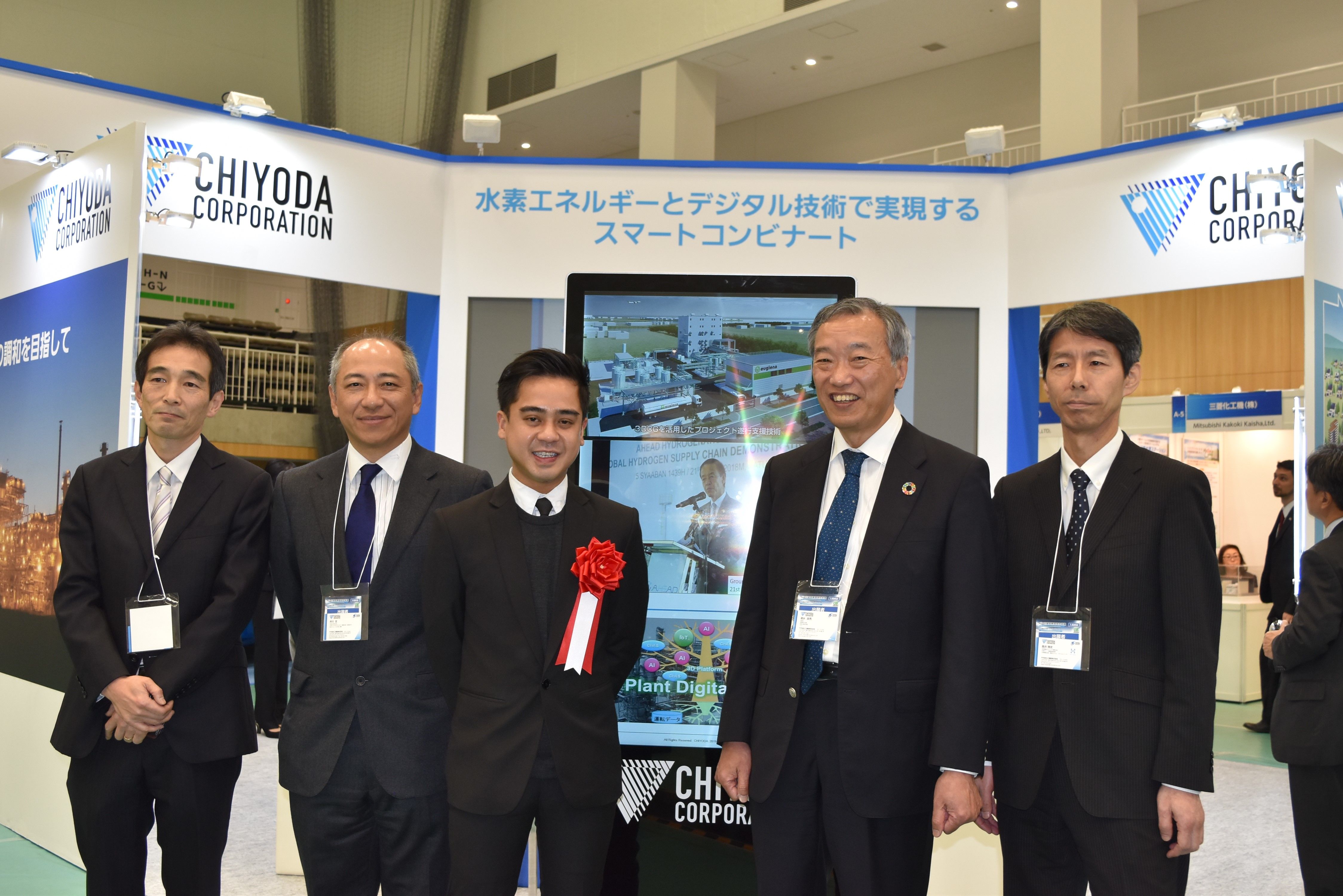 Contributing to Regional Economic Development and the Engineering Industry Through Our Projects




Chiyoda won the Engineering Commendation Award 2018 of The Engineering Advancement Institution of Japan (ENAA), due to Titanium Sponge*1 Plant Project in Saudi Arabia completed in 2017. In this project execution, Chiyoda, as a leader of JV with CTCI, could manage the same level of quality and construction schedule as in domestic project of equal type plant in Japan, and realized the supreme safety record under the very severe natural conditions. Chiyoda implemented various crisis management measures including terrorist attack as well. Those project execution is highly evaluated and awarded by ENAA. Also, this project was selected as Advanced project for the Domestic Supply Chain Development in Saudi Arabia in the "Japan-Saudi Vision 2030" because titanium supply chain promoted by this project will contribute their economical development. In addition, this project won the GCC Winner, Industrial project of the Year in the MEED*2 2019 Project award in April 2019.
Thus, Chiyoda will contribute the development of engineering industry and follow the global goal of "Industry Innovation and Infrastructures".

*1. Porous pure titanium obtained via smelting of titanium ore.
*2. MEED MEDIA FZ LLC: A top media company founded in 1957 and specialized in the Middle East and North Africa.