In order to execute each project, we organize a project team consisting of talented people with diverse backgrounds, skills and experiences.
The organized project team leads a project to a success in collaboration with our liaison offices, affiliates and partners.
The integrated capability exhibited by each project team is a basis of an engineering contractor, Chiyoda. We hereby introduce role of each manager in a typical project team model.
Project Team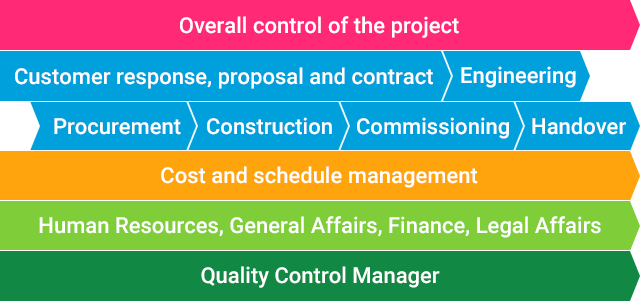 overall project management
overall project
management

Role of Project Manager

Project manager (PM) overseas and controls the overall project plan, engineering, procurement and construction in line with the customers', social and environmental requirements to lead a project to a success.

PM is engaged in the overall project execution. For that purpose, PM is authorized to take any necessary actions to complete a project within schedule and budget stipulated in the contract.

customer response,
proposal and contract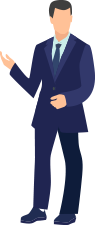 customer response,
proposal and contract

Role of Sales

The sales manager defines targeted projects based on the corporate strategy and to establish an individual winning strategy of each targeted project.

Winning strategy covers execution strategy including partnering to enhance our competitiveness and technological strategy, most optimized contract scheme and others. Based on the winning strategy, sales manager in collaboration with a project team and other divisions such as legal, finance and technology, engages in preparing a proposal containing most attractive price, quality and project schedule.

After execution of a contract with a client, sales manager maintains proper communication with a client to transfer a clients' real intention to a project team and fully support a project team for a success of a project.

engineering management

engineering
management

Role of Engineering Manager

Engineering manager (EM) supports a project manager and manages whole engineering work. Further, EM is responsible for all engineering work and integrates all project management activities related to engineering work.

EM plays an important role for a success of the project and his decision often affects cost and schedule of the project.

procurement

procurement

Role of Procurement Manager

Procurement manager (PRM) is responsible for "P" (Procurement) of EPC. Based on character of the plant location, the client's requirements, project finance conditions and other conditions, PRM establishes the project procurement strategy.

PRM and his team with support from the corporate permanent procurement sections execute purchasing, expediting, inspection and transportation to the construction jobsite, and control costs and schedule of overall procurement work.

PRM and his team coordinate with engineering team in terms of purchasing and quality control, and with construction team in terms of delivery control and shipping.

Further, PRM and his team participate in negotiations with clients and contribute to a success of project in collaboration with the concerned persons.

Construction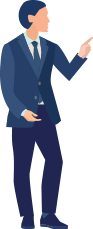 Construction

Role of Construction Manager

Construction manager (CM) is responsible for all project construction work. CM leads area managers who supervise each construction area and construction discipline leaders, such as civil, mechanical, piping, electrical, instrument to execute all construction work safely and without delay. To achieve such missions, CM is required to have capability and enthusiasm.

CM reports construction progress to the client, while CM establishes efficient construction planning to make subcontractors execute their work without additional and redundant work.

commissioning and handover

commissioning
and handover

Role of Commissioning Manager

Commissioning is performed prior to the start-up of commercial operation after completion of construction of the plant. However, planning of commissioning work is carried out from the initial phase of the project to seamlessly transfer the plant to the client. Chiyoda applies lessons learnt from past projects in engineering, procurement, construction and commissioning to avoid repetition of the same troubles and achieve smooth execution of start-up of the plant.

Commissioning Manager, who is assigned to a construction site manages commissioning work to ensure effective implementation of commissioning plan and carry out troubleshooting. Commissioning Manager is responsible to execute commissioning work successfully in a timely manner with safety standards, which bring measurable benefit to clients.

cost and schedule control

cost and schedule
control

Role of Control Manager

The control manager works as a staff officer in a project team. As a staff officer, he supports the project manager to complete a project on schedule within budget.

For that purpose, he prepares the most optimized project plan and analyzes differences between actual progress and planned one in a timely manner. He is required to give various advices to the project manager in order for the project manager to make the best decision for the project.

The control manager plays a role of coordinator in a project team and contributes to success of the project.

human resources, general affairs,
finance and legal affairs

human resources,
general affairs,
finance and legal affairs

Role of Business Manager

The business manager promotes the various project works smoothly and effectively through the project administration work which is demarcated into the four stages such as

a) planning and preparation, b) starting, c) execution, d) closing.

These planning and works requires the various and specific knowledges for general knowhow, work process, local legislation, environment, the client information and each uniqueness of the projects.

quality control

quality control

Role of Quality Control Manager

The quality control manager (QCM) is responsible for quality control and inspection during "P" (Procurement) and "C" (Construction) of EPC, based on the character of plant, location, the client's requirements, and others.

QCM takes leadership in procurement of equipment, materials and construction being executed in accordance with the client's requirements through witness of inspections and documents' check, and prevent troubles through past lessons learnt. QCM and his team coordinate with engineering team for technical issues, with expediting team for delivery control of equipment and materials, and with construction team at jobsite, and interface with the client for explanation of quality control and countermeasures for trouble-shooting.

QCM and his team will contribute to the success of project by obtaining various stakeholders' cooperation.